Win a Henry .22 Rifle on NRAhuntersrights.org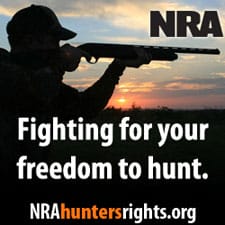 FAIRFAX, Va. –-(AmmoLand.com)- For the month of May, NRAhuntersrights.org is holding a double gift giveaway, and one lucky winner will take home a Henry Lever Action Youth Model .22 and a fly rod from Temple Fork Outfitters.
The Henry youth .22 is a lightweight, compact version of Henry's famous lever action rifle.
This rifle weighs just 4 1/2 pounds with an overall length of 33 inches and a 13-inch length of pull, making it ideal for young hunters or adults who desire a compact rifle in the field. The gun also features an American walnut stock, fully adjustable rear sight, 12-round capacity, and the famously smooth Henry action. The rifle is already grooved for a scope and comes with a gun case.
Suggested retail price is $325. To learn more about Henry Repeating Arms Co., a major supporter of NRA Youth Programs, or to get a free copy of Henry's color catalog, visit www.henryrifles.com.
If your summer outdoor plans have you headed for a trout stream, our second gift, a 5 weight, 9-foot fly rod from Temple Fork Outfitters, will get you set for rainbows in the Appalachians or cutthroat in the Rockies. The fly rod is part of Temple Fork Outfitters' Fly Rod Chronicles (FRC) Series and was designed by Curtis Fleming, host of Fly Rod Chronicles on The Sportsman Channel. FRC rods are designed for pin-point accuracy for the technical angler, yet have a forgiving tip to help beginners improve their casting ability. The rod's translucent moss green blank is complemented by matching graphite inserts, gold up-locking reel seats, and gold accents. This rod, which comes with a hard triangular rod case, retails for $199.95. For more information about Temple Fork Outfitters, visit www.templeforkflyrods.com.
Thank you to Jim Slinsky of the Outdoor Talk Network for his help in securing this first-rate fly rod.
To enter, visit www.NRAhuntersrights.org and scroll down to "Gift Giveaway" for simple entry instructions. Entries will be accepted now through May 31, and a winner will be announced on June 1. Only one winner will be selected to win both gifts.
In addition to entering our giveaway, we invite all hunters to submit their hunting photos for our Trophy Gallery. If you shot a great buck last fall, or if you bagged a boss gobbler this spring, we want to see it. Simply e-mail your photo to [email protected] and put "Trophy Gallery" in the subject line. All photos should be sharp, tasteful, and display safe gun handling practices.
Include the following information with your submission:
Your name and hometown
Date and location of the hunt
Firearm used
Type of species
Haven't visited NRAhuntersrights.org lately? Here are a few stories you missed:
The Hunt For Reason
Montana's Game Camera Ban
California Tables Plans to Expand Black Bear Hunt
Hunting Magazines and Shows to Remain Legal
Alaska Responds to NPS Hunting Closures
For the most up-to-date information about your hunting rights there's just one source: www.NRAhuntersrights.org.