Knife Rights Launches Million-Dollar "SECOND FRONT" Campaign
To Support Aggressive New Legislative Program.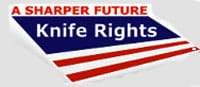 Atlanta, GA –-(Ammoland.com)- Knife Rights chairman Doug Ritter announced a million-dollar "SECOND FRONT" fundraising campaign at Knife Rights' Sharper Future Awards Breakfast at the BLADE Show in Atlanta.
"This past year, Knife Rights opened the 'second front' in the defense of our Second Amendment rights. Now, we launch a new fundraising effort to support this work. Appropriately, it's our SECOND FRONT campaign," said Ritter.
"This effort represents a broader application of Second Amendment rights beyond traditional firearms issues. It's our Second Amendment, too."
SECOND FRONT fundraising will support Knife Right's National Knife Law Preemption Campaign which was launched with a model Knife Preemption Law passed into law in Arizona earlier this year. Knife Rights plans preemption initiatives in other states plus legislation modeled on the Knife Rights Bill just passed in New Hampshire. Their new law legalizes switchblades and other knives once banned in an irrational reaction against 1950s-era Hollywood film excesses of the day.
Ritter said Knife Rights has received preliminary pledges of $150,000 even before official announcement of the campaign.
"Our Second Front campaign will help increase the relevance of Second Amendment issues in the minds of many who haven't historically considered the Second Amendment their own. The campaign will expand the base of support for the Second Amendment to the benefit of all," concluded Ritter.
Knife Rights (www.KnifeRights.org) is America's Grassroots Knife Owners Organization, working towards a Sharper Future for all knife owners. Knife Rights is dedicated to providing knife owners an effective voice to influence public policy to protect and enhance their rights.