Knife Rights Opened A "Second Front" In The Defense Of Our Second Amendment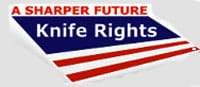 New Hampshire –-(Ammoland.com)- As Knife Rights pursued its successful legislative agenda this past year, key allies have been leading grassroots Second Amendment organizations and supporters who recognize that it's our Second Amendment too! From their point of view, Knife Rights opened a "second front" in the defense of our Second Amendment.
Those who have for so long fought for our Second Amendment rights are encouraged to see a new ally.
While all of us view our knives as tools, ultimately our right to own and carry these tools is enshrined in the Second Amendment, for which we should all be eternally grateful. Look at the Knife Rights logo and you will see the two pillars upon which we stand, "Essential Tools – Essential Rights." We cannot retain the former without the latter. One need only look over the ocean to England to see the bleak alternative of a society that doesn't trust its own citizens with the most common of tools. We retain freedoms only if we continue to fight for them. For too long we just stood by, but no more! However, fighting for our rights takes money, plain and simple.
Financial support from these Second Amendment allies has been critical to our success this year and will be in the near future as we have much work to do before we are large enough to fund our efforts entirely ourselves. So, I am very excited to announce the launch of a major Knife Rights fundraising effort to support our legislative initiatives.
Appropriately, we've chosen to call it our "SECOND FRONT" Fundraising Campaign and our initial goal is raise one million dollars to support Knife Rights' legislative initiatives.
SECOND FRONT fundraising will support Knife Right's National Knife Law Preemption Campaign which was launched with the model Knife Preemption Law passed into law in Arizona earlier this year. Knife Rights plans preemption initiatives in other states as well as legislation modeled on the Knife Rights Bill just passed in New Hampshire legalizing switchblades, dirks, daggers and stilettos.
Knife Rights has received preliminary pledges of $150,000 even before official announcement of the campaign. A million dollars is an audacious goal, but it is achievable. We are not alone, and we are very lucky that we are not, as we could not afford the dramatic advances we have and will achieve if we were.
We could not have gotten to this point without the continued support of our members and funding from grassroots sources. Your membership and ongoing support are key in growing Knife Rights and the execution of our mission — a Sharper Future.
Here is how you can help make this new campaign a success. We have assembled a team to contact potential donors. From experience, we at Knife Rights know that many of you have relationships with people who could contribute to the Second Front Campaign. You do not need to do the asking. Our Fund Development team will do that, but we do need your help to identify these individuals. Please take a moment to think about who might be a potential donor and then please contact us at: [email protected] . Your relationships and introductions are priceless and we will take it from there.
See the Press Release: