Win a Leupold VX-3 Riflescope on NRAhuntersrights.org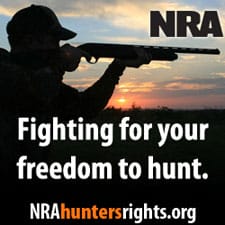 FAIRFAX, Va. –-(Ammoland.com)- The June Gift Giveaway on NRAhuntersrights.org features one of the most advanced pieces of shooting gear we've offered yet-a Leupold VX-3 3.5-10x40mm CDS riflescope.
The VX-3 features Leupold's Xtended Twilight Lens System for increased brightness in low light; DiamondCoat 2 scratch-resistant lens coating; blackened lens edges for reduced light diffusion; an internally threaded, lockable, fast-focus eyepiece; and Leupold's famous Argon/Krypton gas waterproofing technology. Windage and elevation can be fine-tuned with cryogenically treated, ¼-MOA, finger-click adjustments.
This scope also comes with Leupold's Custom Dial System (CDS)-you contact Leupold with your ballistics data, and they'll send you a dial custom built to match the caliber and load you're using. Sighting-in at different ranges will be quick and easy.
The scope has a matte black finish and duplex reticle, comes with scope caps, and is backed by Leupold's full lifetime guarantee. As a final touch, each VX-3 scope is mounted with a 24k gold-plated ring and medallion. Free to one lucky winner, this scope retails for $499.99.
To enter, visit www.NRAhuntersrights.org and scroll down to "Gift Giveaway" for simple entry instructions. Entries will be accepted June 1 through June 30, and a winner will be announced on July 1. (Entries must be made each month to be eligible for a Gift Giveaway. Entries made prior to June 1 will not qualify for the June giveaway.)
In addition to entering our giveaway, we invite all hunters to submit their hunting photos for our Trophy Gallery. If you shot a great buck last fall, or if you bag a boss gobbler this spring, we want to see it. Simply e-mail your photo to [email protected] and put "Trophy Gallery" in the subject line. All photos should be sharp, tasteful, and display safe gun handling practices.
Include the following information with your submission:
Your name and hometown
Date and location of the hunt
Firearm used
Type of species
For the most up-to-date information about your hunting rights there's just one source: www.NRAhuntersrights.org. For more on Leupold's other high-quality products, visit www.leupold.com.