Are Two Wolves Worth a Lawsuit?
By Justin McDaniel, Assistant Editor, www.NRAhuntersrights.org
On May 6, a cow calf was found dead on private property in Wallowa County, Ore., and staff from the Oregon Department of Fish and Wildlife (ODFW) and the U.S. Department of Agriculture (USDA) Wildlife Services determined the death to be a wolf kill based on bite marks on the carcass and wolf tracks at the scene.
A second calf was found dead in the upper Wallowa Valley on May 21, followed by a third on May 28, two on May 29, and another on June 4. All six deaths were confirmed as wolf kills.
After non-lethal means of controlling the problem wolves failed, ODFW authorized USDA Wildlife Services to kill two uncollared wolves from the Imnaha Pack, which has frequented the upper Wallowa Valley since the beginning of the year. Oregon's 2005 Wolf Conservation and Management Plan, which is up for its five-year review this year, allows for the removal of wolves responsible for "chronic" livestock kills.
As of right now, no wolves have been killed, and it will stay that way until July 30 at the earliest because of a lawsuit brought by the Center for Biological Diversity, the Hells Canyon Preservation Council, Oregon Wild, and Cascadia Wildlands against USDA Wildlife Services for the planned kill.
The Oregon Department of Fish and Wildlife has not been sued.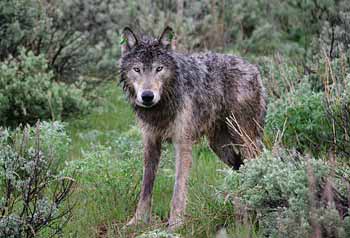 In response to the suit, Wildlife Services agreed on July 2 to put the entire operation on hold for four weeks. Calling the removal action a "hunt," which it is not, the groups bringing the lawsuit said Wildlife Services failed to perform the proper environmental impact analysis for removing two wolves.
It's important to note that the federal government does not consider wolves in eastern Oregon to be endangered. Gray wolves in eastern Oregon were removed from the federal Endangered Species List on May 4, 2009, at the same time wolves were de-listed in Montana, Idaho and eastern Washington. Upon delisting, management of eastern Oregon's wolves was turned over to the state, while wolves in the rest of Oregon remained under federal protection. Even after delisting, ODFW has continued to protect wolves in eastern Oregon under the state's own Endangered Species Act.
According to ODFW, there are 18 confirmed wolves in Oregon in two established packs, with additional individual wolves dispersing through the state. There are currently 13 or 14 wolves in the Imnaha wolf pack, including four new pups born in April and a GPS-collared alpha male that has not been detected since May 31. A second established pack, the Wenaha Pack, has at least four members.
In addition to the six calves killed in Wallowa County since May, Oregon confirmed 29 total livestock losses to wolves in 2009.
Oregon's wolf management plan and associated Oregon Administrative Rules guide ODFW's response to wolf-related livestock losses. If non-lethal measures to control wolves fail after repeated livestock kills, ODFW can issue permits to landowners to kill wolves caught in the act of biting, wounding or killing livestock (it has issued seven such permits to date). The department may also authorize its own personnel or Wildlife Services to kill problem wolves, as it has been forced to do in the case of the Imnaha Pack.
Livestock producers in the upper Wallowa Valley, ODFW, and USDA Wildlife Services tried a variety of non-lethal measures to avoid wolf-caused losses, as prescribed by policy, including the removal of livestock carcasses that can attract wolves; radio telemetry monitoring of wolves; use of radio-activated guard boxes; aerial hazing of wolves; the hiring of a wolf technician to haze wolves and monitor wolf activity nightly; and increased presence around livestock. All were unable to prevent further calf deaths.
According to ODFW, the lethal action is aimed at killing wolves that are showing an interest in livestock, not wolves simply in the area. Under the terms of the plan, the wolves can only be killed on private land currently inhabited by livestock that is near the locations of the previous attacks.
Through these specific terms, ODFW is trying to protect the pack's breeding pair and den site, where the alpha female is caring for the four new pups. The alpha male and female are both collared, as are two other members of the Imnaha pack, and Wildlife Services cannot kill collared wolves.
Despite these precautions, the antis jumped on the fact that ODFW extended the expiration date for the wolves' removal from June 11 to Aug. 31, saying in their suit that the depredation had to be presently occurring in order for the wolves to be removed. They also claimed ODFW failed to document how the non-lethal means of solving the depredation proved ineffective, even though five calves were killed after ODFW began working with landowners and the Oregon Cattleman's Association on non-lethal means of dealing with wolves following the first attack on May 6.
All of this for two wolves. Thousands of dollars in public funds will be wasted fighting these environmental groups in court. More ranchers and farmers will run the risk of losing their livelihood to depredation. And groups like the Center for Biological Diversity will continue to armchair quarterback the decisions of biologists who should be the final authorities on managing Oregon's wildlife.
Keeping wildlife management issues tied up in legal red tape indefinitely is exactly what these radical groups want, which begs the question: What is the motive of the Center for Biological Diversity and its allies in suing to save two wolves? Could it be opposition to hunting (and hunting of wolves)? Could it be using wolves as an iconic symbol for fundraising purposes? Perhaps both? It can't be "protecting the species" when all of the professional wolf biologists have supported the wolf delisting decisions that have been made by the U.S. Fish and Wildlife Service.
What the current issue in Oregon shows is that groups claiming to be pro-environment and pro-wildlife will stop at nothing to thumb their noses at the decisions of professional wildlife managers, all in the name of advancing their own agendas.