Delta Waterfowl's Duck Hen House Partnership Takes Flight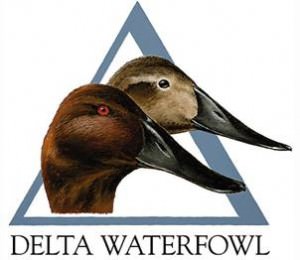 Minnesota –-(Ammoland.com)- Matt ChouinardMatt Chouinard has been a busy, busy biologist.
In the last three years, Chouinard's job has been to erect and repair countless Hen Houses throughout the Prairie Pothole Region (PPR) of western and southwestern Minnesota, historically a duck-producing stronghold.
The goal: to increase the local mallard breeding population by protecting nesting hens from predators like skunks, raccoons and fox. His work is part of an ongoing Delta Waterfowl-Minnesota Department of Natural Resources partnership.
"In a landscape that continues to lose cover, leaving nesting ducks, eggs and ducklings vulnerable to predators, Hen Houses can dramatically increase nest success," said Chouinard, who noted usage and nest-success rates this year were strong. "This is a good, cost-effective tool for Minnesota's duck-production problems."
Developed by Delta Waterfowl, Hen Houses are wire-framed, grass-lined cylinders mounted on posts and erected above the waterline of wetlands to buffer hens and nests from predators. No stranger to these so-called high-rise condos, Chouinard got his master's degree from Mississippi State University for his Hen-House work in Minnedosa, Manitoba.
Matt Chouinard was a guest on Dave Carlson's Northland Adventures in 2009.
Chouinard installed 288 Hen Houses last winter and entered the spring with 1,041 "active" Hen Houses in 19 Minnesota counties. This summer, he checked roughly 250, including 71 new structures, and found a 42 percent use rate. However, usage rates on two-year-old and older Hen Houses increased to 54 percent.
"That's a very good number, in my opinion," said Chouinard. "Usage rates almost always increase the longer the structures are out. One area, Big Stone County, was particularly outstanding with 70 percent use by ducks."
Nest success, he said, was also very good—an impressive 82 percent.
"Based on our estimates and some basic mallard metrics, production this summer should be around 3,124 ducklings," he said. "Over the partnership's three nesting seasons, almost 6,500 ducklings have hatched in hen houses."
According to Minnesota DNR research estimates, Chouinard said, 95 percent of those ducks—6,151—are considered "incremental"— meaning they would not have hatched were it not for the availability of Hen Houses.
"We're making ducks at a population-expanding level, and that's the goal," he said.
Chouinard said to expand the duck population in general, research shows that nest success must be at least 15 percent. "In recent years, upland nest-success rates in Minnedosa, where I conducted my master's research, have been so low they qualify as a population sink. That means not enough ducks are produced to offset annual mortality. It shows you the importance of Hen Houses as a duck-production tool."
Delta Waterfowl and its partners and volunteers have installed thousands of Hen Houses throughout the United States and Canada. For more information visit Delta's hen house page. Contact Delta Waterfowl biologist Matt Chouinard at [email protected]