Firearms Training With World Champion Max Michel
Mastering the Steel Challenge with Max Michel, Jr.

Exeter, NH –-(Ammoland.com)- Only a few seats left for this rare opportunity to get the inside winning strategies from the 3-time World Speed Shooting Champion, Max Michel, Jr.
Max Michel, Jr. will be your exclusive instructor in a limited class size, two-day program, July 29 and 30, in preparation for the first SIG SAUER Steel Challenge to be held at the SIG SAUER Academy in Epping, New Hampshire on July 31, 2010.
The Steel Challenge is rapidly becoming one of the most popular and challenging competitions, drawing shooters from around the world. Max will teach you how to compete to win in the fastest handgun competition today. In addition to hands-on, personal instruction from the master himself, you will learn the secrets of stage strategy and how to prepare yourself mentally and physically. Practice stance, grip, draw and transitions while Max coaches you through live-fire scenarios.
For the ultimate course completion gift, you will be squaded with Max Michel on July 31st for the Annual SIG SAUER Steel Challenge and continue to receive the tips, tactics and techniques that can make you a winner at this growing sport.
Time and seats are limited. For more information or to sign up online, visit www.sigsaueracademy.com, Course # 10-MSC-MM-01, or call the Academy at 603-679-2003.
To follow Max Michel and Team SIG, click on http://www.sigsauer.com/TeamSig/MaxMichel.aspx.
Follow Max Michel on Twitter at http://twitter.com/Max_Michel.
For more information on SIG SAUER, or any of its products, visit www.sigsauer.com.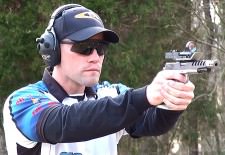 About Max Michel:
Max Michel first gained prominence in the competitive shooting arena with five USPSA® National Championships beginning in 2004 and three World Speed Shooting Championships in 2005, 2007 and 2009. Max has completed nearly 30 USPSA Area Championships and, as a representative of the United States, Max has competed in the last three International Practical Shooting Confederation® (IPSC) World Shoots, returning home with team gold medals. Max was a top recruit for the U.S. Army Marksmanship Unit (USAMU) from 1999 to 2009 and has been an active Army shooter and trainer. Max was also the Military Coach of the Action Pistol Team. Max Michel is currently the SIG SAUER Manager of Competitive Shooting Activities.
About SIG SAUER
SIG SAUER, Inc. is the largest member of a worldwide business group of firearms manufacturers that includes J.P. Sauer & Sohn and Blaser GmbH in Germany and Swiss Arms AG in Switzerland. This global network of companies gives SIG SAUER a world-class firearms knowledge base, unparalleled design expertise, and extensive manufacturing capacity, enabling the company to respond quickly and effectively to changing market conditions and the needs of its military, law enforcement, and commercial markets worldwide. SIG SAUER is an ISO 9001: 2000 certified company with approximately 386 employees. For more information on SIG SAUER or any of its products, or the SIG SAUER Academy, log on to www.sigsauer.com.
About the SIG SAUER Academy
The SIG SAUER Academy is located on 128 plus acres in Epping, New Hampshire. In operation since 1991, the SIG SAUER Academy's world renowned instructors provide courses for law enforcement, military and responsible citizens worldwide. Facilities include state-of-the-art shooting ranges and tactical training areas. www.sigsaueracademy.com.