Foxy Huntress LLC Has New Co-Owner & Management Team
NBFog, Inc. Assumes All Operations of Women's Hunting Clothing Brand.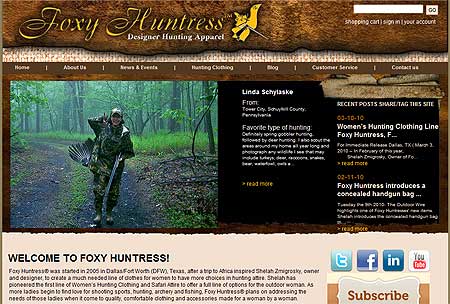 Austin, TX –-(AmmoLand.com)- Foxy Huntress LLC, the premier maker of hunting and outdoor apparel for women, announces it has entered into an agreement that places all day-to-day operations of the company under the direction of a new management team, effective immediately.
NBFog, Inc., a multi-discipline company focused on brand building and management in the outdoor lifestyle community, is now the co-owner of Foxy Huntress LLC and the managing member of the company.
The new team will direct all operations of Foxy Huntress LLC, including product development, sourcing, sales, marketing, warehousing, fulfillment, and customer service. Administrative offices will be in Austin, Texas, while warehousing, fulfillment, and other operations will be housed in West Jordan, Utah.
NBFog, Inc.'s core strength is its seasoned executive team, each of whom is serving in roles that leverage many years of successful prior experience and influence in the outdoors industry. NBFog's CEO is industry veteran Mike Callahan, who most notably spent 18 years as a senior executive with Cabela's. The Chief Marketing Officer is another industry veteran, Sammie Knight, formerly Executive Vice President of Sales and Licensing with Mossy Oak. NBFog's Chief Operating and Financial Officer, Randy Russell, previously served as Mossy Oak's COO and CFO. Jason Otteson, Chief Investment Officer, is experienced in finance and strategies for public companies in several industries, including licensed sport products.
"Foxy Huntress is an ideal fit for NBFog's strengths. It is a respected brand with growth opportunities, and we plan to leverage our strengths to see it reach its potential," said Mike Callahan, CEO of NBFog. "Women represent the largest potential growth area in the hunting, fishing, and adventure markets, and having appropriate clothing that fits and functions well can only help."
Foxy Huntress founder Shelah Zmigrosky will remain involved in the company as a co-owner and will assist with product development and marketing activities. She will also continue as the spokesperson for the Foxy Huntress brand.
"I have the greatest respect for this A-list team of industry leaders at NBFog, and I'm very excited to have them managing the company's operations," said Zmigrosky. "This will give me more time for other ventures while placing Foxy Huntress in the most capable hands possible. I'm confident this new team will take Foxy Huntress to the next level."
The team plans to launch an entirely revamped product line by early 2011, incorporating some new product categories and an additional camouflage pattern.
"Customers can expect some highly functional new products, including raingear and cold weather apparel, employing more technical fabrics than the brand has offered before," said Callahan. "Our priority will be function first, along with a continued emphasis on designing clothes that fit women and offer a little bit of style."
As previously, Foxy Huntress products will be distributed through both wholesale and retail channels.
For more information about Foxy Huntress LLC and NBFog, Inc., visit our websites, www.foxyhuntress.com and www.NBFog.com, or call 512-334-6200.