Massachusetts Governor's Anti-Gun Bill Moves Forward
You can only exercise your right to keep and bear news arms once every 30 days.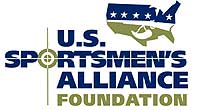 Columbus, OH –-(Ammoland.com)- A Massachusetts bill , sponsored by Governor Deval Patrick , would severely impact gun purchasers. Sportsmen should contact their legislators and urge them to oppose the bill.
House Bill 4102 prohibits the purchasing, renting or leasing of more than one firearm in a thirty day time frame.
Additionally, the bill requires all private sales and transfers of firearms be done through a federally licensed firearms dealer. Sportsmen could not sell a gun to a friend , associate or pass a gun to a family member without first going to a licensed dealer to complete the transfer under the provisions of HB 4102. In effect, this bill would prohibit a father from purchasing multiple firearms to introduce his kids to hunting or the shooting sports.
"There is no legitimate reason why law-abiding gun owners should be prohibited from purchasing more than one firearm per month," said Jeremy Rine, U.S. Sportsmen's Alliance associate director of state services.

"Limiting firearm purchases and private sales without cause adds up to nothing but headaches for sportsmen and, ultimately, less conservation dollars for the Commonwealth."
The bill cleared the Joint Committee on the Judiciary on June 28 and is now before the House Committee on Ways and Means.
Take Action! Massachusetts sportsmen should contact their state representatives and urge them to oppose this bill.
To find your state representative, please visit www.ussportsmen.org/lac
About:
The U.S. Sportsmen's Alliance is a national association of sportsmen and sportsmen's organizations that protects the rights of hunters, anglers and trappers in the courts, legislatures, at the ballot, in Congress and through public education programs. Visit www.ussportsmen.org.