NC Wildlife Staff Receives NRA Firing Range Safety Officer Training
By Justin McDaniel
Assistant Editor
www.NRAhuntersrights.org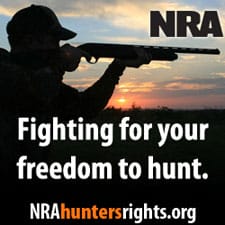 Fairfax, VA--(Ammoland.com)- Staff from NRA's Training Department traveled to Crossnore, N.C., at the end of June to conduct NRA Range Safety Officer (RSO) and Chief Range Safety Officer (CRSO) training for 28 wildlife enforcement officers and hunter education specialists from the North Carolina Wildlife Resources Commission (NCWRC).
The training, held June 22-24 at the North Carolina Division of Forest Resources' B.H. Corpening Training Facility, was arranged by Travis Casper, NCWRC assistant hunter safety coordinator, at the suggestion of Morris Aguilar, program coordinator in NRA's Hunter Services Department.
Casper also serves as director of the wildlife identification event at NRA's International Youth Hunter Education Challenge (YHEC), which will take place July 26-30 in Mansfield, Pa.
"We just recognized the need for more training for our staff," said Casper.

"We do a lot of live-fire activities through our hunter education program, and you can never have too much training. We wanted to further the knowledge base of our volunteer staff, so we put our hunter education specialists and some of our wildlife officers through it to have a base for training volunteer hunter ed instructors."
Aguilar and Casper thought the training would benefit staff conducting North Carolina's state YHEC event, but the NCWRC identified the need for all of their personnel involved in firearm instruction to be certified as Range Safety Officers. The three-day session covered the NRA Range Safety Officer course, basic instructor training, and the Chief Range Safety Officer course. By having a core group of certified Chief Range Safety Officers, the NCWRC can conduct training and certify their own RSOs as needed.
Casper said the training brought in new ideas and reinforced old ones that the department could put into practice on its ranges for hunter education and YHEC.
"The training gave us a new outlook on some things," Casper said. "We were pretty proficient before, but it was beneficial from the standpoint of having somebody else come in that deals with the shooting sports from another end and who brought in some new ideas that we honestly hadn't even thought about."
The NRA Range Safety Officer Program was developed in response to the demand for a nationally-recognized range safety officer certification. NRA Range Safety Officers possess the knowledge and skills that are needed for organizing, conducting and supervising safe range operations.
NRA RSO training is available to any group that supervises and runs live-fire activities, including YHEC volunteers, hunter education instructors, and local shooting clubs.
The Range Safety Officer course consists of Range Safety Officer's roles and responsibilities, range standard operating procedures, range inspection and range rules, firearm stoppages and malfunctions, and range safety briefings, which include emergency procedures.
"I enjoyed the recently completed NRA training," said Kevin R. Crabtree, District 4 hunter education specialist for the NCWRC.

"The instructors were passionate and knowledgeable about the material. The stress placed on range and firearm safety was evident, as expected. The NRA lesson plans allow students to be involved in the courses and put into practice what is learned. The need to formulate an emergency plan was demonstrated well and is what I got most from the course."
Range Safety Officer training is conducted by NRA-certified Chief Range Safety Officers and consists of practical range exercises and nine hours of classroom time. In addition to the classroom and range-based training, candidates must also receive a score of 90 percent or better on the course's written exam to receive their RSO credentials.
"Training is a key component in reiterating ideas that have not been employed for some time, as well as learning new and innovative ideas," said Lt. Rob Fullbright of the NCWRC Division of Enforcement.

"Serving 23 years as a North Carolina wildlife law enforcement officer and with 19 years as a general instructor and specialized instructor with the North Carolina Justice Academy, I came away from the NRA's RSO and CRSO training with key components that will benefit me in many aspects as a training instructor."
The Chief Range Safety Officers who conducted the training for NCWRC staff were Steve Hoback, NRA senior training program coordinator, and Mark Richardson, NRA's Training Counselor program coordinator.
"Mark and I thoroughly enjoyed the training, and the professionals who attended were very impressive," said Hoback.

"Travis indicated that the NCWRC would not have finalized the training without assurance that the training was conducted by NRA staff."
While NRA has certified 12,465 Range Safety Officers to date, this is the first time a state game department has organized an RSO training course for its staff. Other game departments seeking RSO training for range staff, hunter education instructors, and YHEC volunteers/staff are encouraged to contact John Howard in the NRA Training Department at 703-267-1423 or [email protected]
Prospective students can sign-up for any NRA firearm training course online by visiting www.NRAinstructors.org.
About:
For the most up-to-date information about your hunting rights there's just one source: www.NRAhuntersrights.org.