San Antonio Home to New Quail Forever Chapter
Bexar County group is fifth Quail Forever chapter in Texas.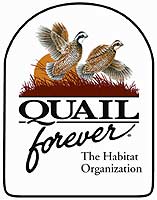 San Antonio, Tex. – -(Ammoland.com)- Dedicated quail hunters and conservationists have formed the fifth Quail Forever chapter in Texas.
Known as the San Antonio Area Quail Forever Chapter, the Bexar County group launched to improve area quail habitat and engage youngsters in conservation education.
"As an avid outdoorsman and quail hunter, I feel the need to continue the efforts to keep quail habitat thriving in our county," explained Richard Kattman, a Boerne, Texas resident, and the San Antonio Area Quail Forever chapter's first president.

"A critical step in doing this is bringing the next generation into the picture. Conservation success is dependent on youth finding interest in our environment."
Like only its Pheasants Forever counterpart, Quail Forever provides its local chapters the ability to decide how 100 percent of their fundraised dollars are spent. This local control gives chapters and members the ability to make things happen for wildlife in their communities, while belonging to a national organization advocating for wildlife and conservation in policy discussions in Washington, D.C.
"We have a lot of folks happy with what the Quail Forever approach to conservation," said Kattman, "Knowing that all the proceeds will remain under the direction of this chapter has people pleased that their contributions will directly affect their area."
"San Antonio Area Quail Forever is made up of a group of friends that is dedicated to quail, conservation and educating the next era of hunters," explained Jordan Martincich, Quail Forever's Regional Representative in Texas. "These are the required ingredients for a recipe of quail conservation success."
San Antonio Area Quail Forever
The San Antonio Area Quail Forever Chapter has also elected Brian McBrearty of San Antonio as treasurer; Wyatt Stevenson of San Antonio as banquet chair; Dean Jessop of San Antonio as habitat chair and Mike Fry of San Antonio as youth/education chair.
The chapter plans to hold its first banquet in March 2011.
For more information about meetings and banquets, contact Richard Kattman at (210) 865-0634 or via email [email protected]
For information about Quail Forever in Texas, please contact regional representative Jordan Martincich at (785) 242-3175 or [email protected]
Quail Forever is dedicated to the conservation of quail, pheasants and other wildlife through habitat improvements, public awareness, education and land management policies and programs.