The Newest SureFire "CombatLight" Lives Up to Its Name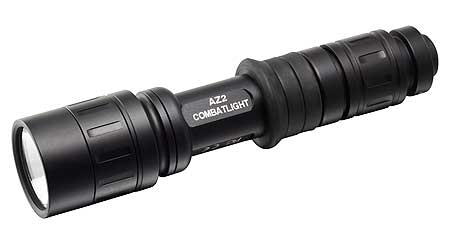 Fountain Valley, CA –-(AmmoLand.com)- SureFire, LLC, manufacturer of high-end illumination tools and tactical products, has created a new flashlight designed and built with the needs of law enforcement officers and other tactical professionals in mind.
The new AZ2 LED CombatLight features two output levels, a rugged hard-anodized aluminum body, a tactical tailcap switch, and SureFire's patented CombatGrip, making it the optimal choice for pairing with a handgun.
The AZ2's dual-output capability and compact size make it an ideal choice as a primary light for law enforcement officers to carry with them every day. It features a virtually indestructible primary LED that generates a far-reaching, 150-lumen beam capable of temporarily overpowering an aggressor's vision. Surrounding the main LED is a ring of four secondary LEDs that produce a 35-lumen wide-angle beam designed for loading gear or other closer-range tasks that don't require so much light or reach. Both beams are shaped by a special micro-textured reflector that blends the light so there are no rings, dark spots, or imperfections.
The flashlight's body is precision milled from high-strength aerospace aluminum, which is as strong as steel but much lighter, and then covered with a Mil-Spec hard-anodized finish that's nearly as hard as diamonds. The body is stepped down to reduce weight and improve ergonomics, part of SureFire's exclusive CombatGrip, which along with a rubber grip ring, allows the light to be held and operated "syringe style" when paired with a handgun, as well as provides excellent hold in cold or wet conditions or while wearing gloves. Partially depressing the tailcap pushbutton switch delivers the low output; pressing further unleashes all 150 lumens from the light's primary LED.
Weighing in at only 5.1 ounces and measuring less than six inches in length, the AZ2 is compact and combat ready—especially when paired with a quick-deploy holster like SureFire's fully adjustable V85A. The AZ2 currently retails for $260, and the V85A holster is sold separately for $49. Both are available from an authorized SureFire dealer or directly from SureFire at www.surefire.com.
About SureFire
Located in Fountain Valley, California, SureFire is a leading manufacturer of high-performance flashlights, weapon-mounted lights, and other tactical equipment for those who go in harm's way, or anyone who demands the ultimate in quality, innovation, and performance. SureFire illumination tools are used by more SWAT teams and elite special operations groups than any other brand. SureFire is an ISO 9001:2000-certified company.