Members of the 2010 World Shooting Championships Team featured with their National Championship medals.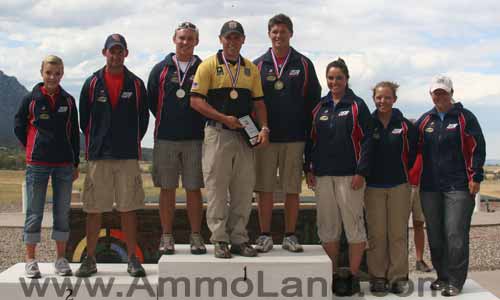 USA Shooting's National Championships  Shotgun Report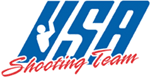 Colorado Springs CO -(Ammoland.com)- The US Olympic Training Complex is home to over thirty Resident Athletes of the shooting sports.
The shotgun Resident Athletes made their presence known at this year's USA Shooting National Championships for Shotgun.
Five of the six medalists in the Men's and Women's Trap events are Resident Athletes. The 2009 Champion in the Men's Open Division, John Mullins, reclaimed his title with a six-target lead. Mullins entered the final nine birds ahead of second place finisher Jacob Turner, but Turner and Collin Wietfeldt turned up the heat in the final, scoring 23 and 22 respectively.
However, with a lead that strong they were unable to catch Mullins. Turner shot for a total of 260 targets and Wietfeldt, also the National Champion of the Junior category, shot for 259 targets. Following Wietfeldt in the Junior category was silver medalist Garret Walters, four birds back. TJ Bayer finished in third among Juniors with 254 targets.
 
Continuing with the Resident Athlete theme was Rachel Heiden, your new Women's Trap National Champion. Heiden, technically a junior, entered the final in first and remained on top with 253 targets. With a final of 23 targets, Kelsey Zauhar tried to play catch up in the final, but fell short three birds. She was followed by Resident Athlete and 2008 Olympic bronze medalist, Corey Cogdell, with 249 targets. Leading the Junior category was Kayle Browning with 243 targets. Browning also shot in the Women's Open final and finished fourth. She was followed by Miranda Wilder at 241 targets and Caitlin Weinheimer at 235 targets.
 
The Double Trap National title belongs to 2008 Olympic gold medalist SGT Glenn Eller. After remaining relatively quiet on the international scene as of late, SGT Eller (of the US Army Marksmanship Unit) came back in a big way with 336 total targets. He was followed by USAMU teammate SSG Josh Richmond with 333 targets, who won an individual and team gold at the Acapulco World Cup in March.
Junior Champion, Derek Haldeman, finished third in Men's Open as well as dominating the Junior class. He scored 328 targets in the Open Division and 327 total in the junior division. Second place finisher Ian Rupert, a member of the upcoming World Shooting Championship Team, shot for 319 targets. Billy Crawford, also shooting for Team USA at the World Championships in Munich, finished third with 317 targets.
 
The US Army Marksmanship Unit's SGT Vincent Hancock posted a 274/275 targets to dominate Men's Skeet. SGT Hancock's near perfect was an impressive feat–although many approached him after to jokingly ask why he missed even one. With scores like that, the 2008 Olympic gold medalist proved that he is ready to take on the world in a few weeks at the World Shooting Championships in Munich, Germany. Coming in second was new Resident Athlete Jon Michael McGrath, who narrowly beat out TJ Bayer. McGrath shot for 269 targets, 23 of those in the final and Bayer was right behind as he smoked a 24 target final to earn 268 total targets. In the junior category, open contender Jon Michael McGrath took home gold with 270 targets. He was followed by Resident Athlete BJ Blanchard at 266 targets and TJ Bayer, also with 266 targets.
Kim Rhode, the face of women's skeet, was undoubtedly the champion today as she hit 267 total targets to tie her previous national record. Rhode remained strong with the poise of an experienced champion and a 25 target final. Just ask SGT Hancock–a national title is a good start to preparing for World Championship competition. Resident Athlete and junior shooter Caitlin Connor took home second with 262 targets. Her World Championship Junior teammate Jaiden Grinnell finished third with a 25 target final for 260 targets. Grinnell, a Resident Athlete, also placed second in the junior category shooting 259 targets. The junior National Champion was Caitlin Connor with 261 targets, just one shy of her open score. Morgan Craft, a J2 competitor, placed third with 243 targets.
 
Winchester Ammunition is a Proud Sponsor of the USA Shooting Shotgun Team: Winchester® Ammunition has been the exclusive ammunition sponsor and supplier of the USA Shooting Shotgun Team since 1999. Members of the 2008 shotgun team brought home four medals from Beijing using Winchester AA International Target loads. Winchester is an industry leader in advancing and supporting conservation, hunter education and our country's proud shooting sports heritage. For more information about Winchester and its complete line of products, visit www.winchester.com.
 
About USA Shooting:
USA Shooting, a 501c3 non-profit corporation, was chartered by the United States Olympic Committee as the National Governing Body for the sport of shooting in April 1995. USA Shooting's mission is to prepare American athletes to win Olympic medals, promote the shooting sports throughout the U.S. and govern the conduct of international shooting in the country. Check us out on the web at www.usashooting.org and on Twitter at twitter.com/USAShooting.