Win $10,000 Cash or a Ford F150 4×4 Lease & Support U. S. Sportsmen's Alliance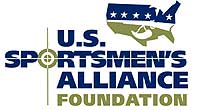 Columbus, OH –-(Ammoland.com)- The U. S. Sportsmen's Alliance is proud to offer you a chance to WIN some fabulous prizes and support our grassroots network through the Sentry Sweepstakes.
Major companies have donated hundreds of prizes valued over $100,000 because they know the importance of preserving our way of life for future generations. They want to support our Sentry Program which is building a grassroots army from coast to coast to protect and advance hunting, fishing, shooting and trapping as well as getting more youth in the field.
Prizes include shotguns, bows, muzzleloaders, rifles, outdoor gear, optics and much, much more! Who couldn't use a new truck, a new bow, a new shotgun or, better yet, CASH to help ensure a successful hunting season?
We are asking for your voluntary donation of $5.00 for one ticket or $20.00 for a book of four tickets. To participate, simply go online and make your contribution. Your stubs will be filled out and entered in the drawing that will take place on or around December 28, 2010.
Although no donation is necessary and a donation will not increase your odds of winning, we ask that you contribute to the Sentry Sweepstakes to help create a grassroots network of sportsmen and sportswomen working to protect our heritage today and tomorrow. Based on past sweepstakes and the amount of prizes offered this year, your chance to WIN a prize is approximately one in 200! Your chance of winning the Grand Prize is approximately one in 19,000.
Don't miss out on your chance to get in on this great opportunity, so take a moment and enter today. All entries must be received by December 20, 2010. Thank you in advance for your support.
About:
The U.S. Sportsmen's Alliance is a national association of sportsmen and sportsmen's organizations that protects the rights of hunters, anglers and trappers in the courts, legislatures, at the ballot, in Congress and through public education programs. Visit www.ussportsmen.org.