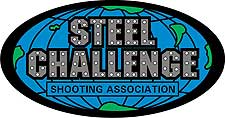 Wyoming's Fastest Gunning for State Speed Shooting Title in Rawlins
Rawlins, WO -(Ammoland.com)- Many of the Equality State's fastest competition pistol shooters will compete for the state title in one of the shooting sports' most exciting speed and accuracy events, the 2010 Wyoming State Steel Challenge Championship.
Among those competing will be past Women's World Speed Shooting Champion Julie Golob, captain of the Smith & Wesson shooting team.
The 2010 Wyoming State Steel Challenge Championship represents a major test of the speed shooting season leading up to the Steel Challenge Shooting Association's World Speed Shooting Championships in August. The match draws shooters from throughout Wyoming as well as Colorado and Montana. The event spans two days pitting the best shooters against eight courses of fire and the clock.
Courses of fire, or stages, are made up of five steel targets which are electronically timed to 1/100th of a second. Competitors shoot each stage five times with their slowest run eliminated. The combined time of the four best runs is their score for that stage and their combined score of all eight stages is their match score. The overall world record stands at 79.16 seconds and was set by two-time World Speed Shooting Champion K.C. Eusebio in 2008.
Champions will be determined in the Women's, Junior, Super Junior, Senior, Super Senior and Law Enforcement and Military categories and in several divisions including Rimfire, Single Action Revolver, Revolver, Stock Pistol and Open Pistol – the Formula-1 equivalent in the shooting sports.
Additional information and photos from past Speed Shooting competitions can be found in the Steel Challenge Shooting Association online media center.
The best shooters from across Wyoming compete to determine the best of the best and find out who is indeed the fastest gun in the Equality State.
About:
The Steel Challenge Shooting Association is the national governing body for the sport of Speed Shooting and was established in the United States in 1981 to determine the world's fastest shooter. Each year the SCSA holds matches including the Steel Challenge World Speed Shooting Championships in Piru, California.
WHERE:
Rawlins Outdoor Shooting Complex
1 1/2 miles north of Rawlins on Hwy 287
Turn right on the Rawlins Landfill road
WHEN:
Saturday – Sunday, July 17 – 18, 2010
Awards presented on Sunday afternoon, July 18, 2010