Will DA Vance Arrest Stephen Colbert for Switchblade Possession on TV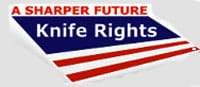 Gilbert, AZ –-(Ammoland.com)- Given New York District Attorney Cyrus Vance, Jr.'s campaign to shakedown and prosecute those selling or possessing so-called "illegal knives" (locking one-handed and assisted openers) in New York, one has to wonder when his goons will show up on Stephen Colbert's doorstep to arrest the self-proclaimed liberal TV satirist.
On the August 18 Colbert Report, which is produced in New York City, Colbert flicked open a Benchmade Barrage assisted opening knife, which would be a switchblade according to DA Vance's self-serving distortion and abuse of New York State's switchblade and gravity knife statute. You can watch Colbert demonstrate his knife skills here: https://bit.ly/c1WWER (at the 38 second point of the video segment).
We aren't holding our breath for that to happen, however. Vance clearly operates to a double standard when it comes to his prosecutions and your civil rights. Which explains why Paragon Sports in NYC is still displaying and selling its hundreds of thousands of dollars of custom knives, many or most of which are locking one-hand openers that operate exactly the same as the lower cost production knives that Paragon handed over to Vance when they paid a six-figure "contribution" to Vance to avoid prosecution for selling so-called "illegal gravity knives." Apparently it's only illegal to sell these so-called "illegal knives" when the customers are just plain working folks. If you are wealthy enough to afford a high-end custom knife from Paragon, then that's fine. The hypocrisy is apparently lost on Paragon which seems perfectly comfortable with the DA's double standard on civil rights.
NYC Knife Persecution Developments
Ace Hardware has apparently been targeted by Vance and in furtherance of another one of those deferred prosecution agreement shakedowns, has sent a memo to all of its dealers and co-op members in New York State, not just New York City, requiring that they "must remove all one-handed opening knives from their shelves." They will no longer ship such knives to their dealers and co-op members in New York State.
When I spoke to Ace Hardware's attorney at their headquarters, he didn't argue that Vance's interpretation of New York law was flawed, but rather he noted that they were protecting their many independent dealers and co-op members, a unique business model compared to others Vance has shaken down, none of which could have stood up to Vance had he attacked them each independently. He declined to explain why they agreed to restrict one-hand openers from the entire state, which clearly falls outside Vance's jurisdiction. Once again, Vance's mafia-like shakedown scheme scores a win because the major retailers will not risk the potential for harassment by Vance and his goons. Knife sales simply do not represent enough business to be worth it to them.
In this case, his reach outside the city itself to take a swipe at your rights is even more troubling.
DA Vance's assault on folders has also driven the 32-year-old New York Custom Knife Show out of New York City. It's moved across the river to Secaucus, New Jersey. For more information: https://bit.ly/9SWJgN
Industry Waiting for DA Vance's Second Wave
Meanwhile, the knife industry awaits DA Vance's "second wave" of prosecutions, this time against online retailers selling into New York City, which he threatened in his original press conference and press release. A number of online retailers have simply ceased shipping to New York City, and in some cases, to the entire state, clearly cowed by DA Vance's threat. Others have been more selective, only stopping shipments of the locking one-hand openers and assisted openers that Vance appears to be targeting. Given the DA's enormous resources and clear lack of ethics, we can understand that response, even while we find it tragic. For Vance, every one of those is a victory against your freedoms and rights that he clearly holds in contempt. With the summer vacation season winding down, we have every reason to believe that we won't have to wait much longer for Vance to take his act on the road, so to speak.
We have received a number of emails and phone calls recently asking what we are doing about this revolting mess or why we haven't done something already. Please do not assume that nothing has been happening regarding the NYC situation, just because we haven't been saying much about it. The nature of the problem with DA Vance is a legal one, and one that is pretty complicated in some respects given the issues and tactics involved. As such, we cannot reveal much about what we are working on and our strategy as we would prefer. At this point there is little we can report to our membership and little we can ask of you to do other than imploring you to contribute as generously as you can.
Knife Rights is working hard to ensure that when Vance next tries to attack honest knife retailers, he will not catch us by surprise or defenseless. You can be assured that Knife Rights has been working closely with some of the nation's foremost legal minds who are veterans of numerous other battles to protect the rights of law abiding citizens. Beyond that, I trust you can appreciate that we cannot say anything more at this time.
All this effort does take resources and we do need your continued support. Please help us stop this insanity. Make a Contribution to our fight against the DA's assault on our pocket knives: https://bit.ly/Scvp9
ALERT! ALERT! ALERT! ALERT!
If you are a retailer or individual who finds yourself targeted for the sale or possession of so-called illegal knives (one-hand opening and assisted opening knives), we urge you to immediately contact Knife Rights at: [email protected] or toll-free: 1-866-889-6268. You have a constitutional right to seek help and counsel.
Make a Contribution to our fight against the DA's assault on our pocket knives: https://bit.ly/Scvp9
Join or Renew your Knife Rights membership today! https://bit.ly/2QEVMP
Knife Rights on Twitter: Follow Knife Rights on Twitter and receive the latest updates and notices as soon as they occur: https://twitter.com/KnifeRights
About:
Knife Rights has quickly grown to become America's largest grassroots knife owners organization. Invest in a Sharper Future. Become a Knife Rights member and make a contribution to support the fight for your knife rights. Visit www.kniferights.org