Bushmaster Adds 308 Win Chambering to Carbine Line-Up
First Offering is ORC (Optics Ready Carbine).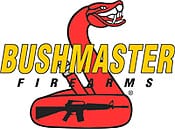 Windham, ME –-(AmmoLand.com)- Bushmaster's offering of a 308 chambered carbine is another step in the continuing evolution of the AR platform and an exciting addition to the growing line of Bushmaster AR-15 style rifles.
The Bushmaster 308 ORC (Optics Ready Carbine) in the venerable 308 Win chambering provides law enforcement agencies with additional firepower and longer range capabilities.
The ORC comes from the factory with two ½-inch scope riser blocks for the shooter that wishes to mount an aftermarket optic to this 308 powerhouse. The riser blocks, which are mounted to the receiver length Picatinny optics rail, provide enough clearance above the upper receiver so the natural cheek weld aligns the shooter's eye directly behind his chosen optic.
This heavy-hitting, mid-range carbine comes with midlength gas system and a milled gas block that is mounted to a heavy-profile, 16-inch 4150 Chrom-Moly Vanadium chrome lined barrel and chamber which is capped with an A2 style birdcage flash hider.
The heavy oval hand guards are heat-shielded and a six-position telescoping stock gives up to 4 inches of adjustment for the length of pull.
The Bushmaster 308 ORC is shipped with a lockable hard case, operator's safety manual, yellow safety block and black web sling. Bushmaster's one year warranty is included. Please visit our website at www.bushmaster.com for complete specifications on the ORC and other Bushmaster rifles.
Model

Bushmaster 308 ORC #

90702

Caliber

308

WIN / 7.62 NATO

Capacity

2

0 Round

Action

Gas Operated

Semi-Auto

Stock

6 Position telescoping

butt Stock

Barrel

16

inch

Twist Rate

1 in

10

Sights

Two  ½-inch

scope riser blocks

Length

33.25-37.25

inches

Weight

7.75

lbs.

MSRP

$ 1395.00
About Bushmaster Firearms
Bushmaster Firearms International, LLC (BFI) is the leading supplier of AR15/M16 type rifles in the United States for Law Enforcement, security and private consumer use. Headquartered in Windham, Maine, with additional facilities in Dallas, Georgia and Lake Havasu, Arizona, BFI supplies aluminum and advanced carbon fiber-based rifle platforms in calibers ranging from 5.56mm/223 to 50BMG. These and associated accessories manufactured by BFI meet the tactical rifle needs of US customers as well as Military, Law Enforcement and Security clients from over 50 countries worldwide. Visit our web site at www.bushmaster.com