Creedmoor Hardback Shooters Coat Takes Nationals – Again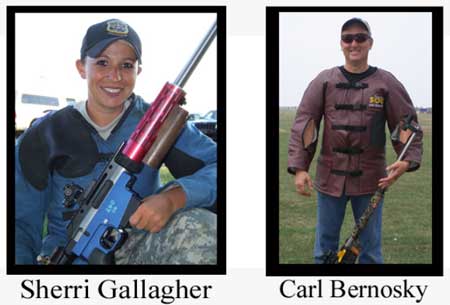 Ohio – -(AmmoLand.com)- If you were at Camp Perry during this year's national championships you witnessed two displays of marksmanship never before seen, and may never see again.
Both Sherri Gallagher of AMU and Carl Bernosky of Pennsylvania (Team SOG firing member) obliterated the national record of 2,389 by posting a 2,395 and 2,396 respectively – nothing short of phenomenal.
Congratulations also goes the 2010 National Service Rifle Champion, Marine Corps Staff Sergeant Eric Swearingen (sorry, no picture).
Three things they all have in common is they are all Champions of the highest caliber, they are three of the nicest people you will ever meet on a range, and they were all wearing a Creedmoor Hardback coat when they fired those scores. For the past 15 years every Service Rifle and Match Rifle Champion has used our coat to win.
You can spend more money, but you can't buy a better coat.
Congratulations to all three of you, and thanks for using our equipment.
Check out the lastest testimony received from one of our customers!
Took my new coat with me to Camp Perry where I shot the CMP games matches. Shot personal bests in 2 of the 4 matches, tied my best in a 3rd, and but for a rifle malfunction would have had my best in the 4th. As it was I still earned medals in all 4 matches! I bought a shooting coat because I always fell behind the field when shooting offhand, so needless to say I was surprised at the difference the coat made when shooting prone. To make a long story short, the coat has done exactly what a hoped it would and then some. Thank you for an excellent product!

Gere Goodenberger
It's time for you to get your hardback on order!
Sincerely, Your Customer Service Staff
Creedmoor Sports, Inc.
760-757-5529
When you order your Creedmoor Hardback coat, it is cut and assembled by hand here at our California location. Because of the intricate detail and care each coat is given, your coat can take up to 10 weeks to be completed.
About:
Creedmoor Sports has been the leader in supplying quality competitive rifle shooting gear since 1979. Visit: www.creedmoorsports.com