K.C. Eusebio Wins 3rd Steel Challenge Shooting Match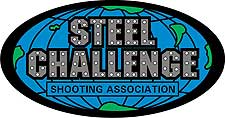 PIRE, Calif. –-(Ammoland.com)- When asked during Wednesday's practice session at the World Speed Shooting Championships if he would win this year's Steel Challenge, K.C. Eusebio's reply was a playful but cocky "what do you think?"
Whether it was cockiness or confidence, come Saturday Eusebio put his money where his mouth was and proved for the third time in his career that he is the fastest shooter in the world by upsetting the defending champion Max Michel of Team Sig Sauer who had not lost a match all season, and holding off a strong challenge from Team Glock's Dave Sevigny.
Though Eusebio won just one stage during the match, posting a new world record on Speed Option, he shot a consistently fast pace throughout all eight stages that put him in a position to win.
With three stages left to shoot, and sitting in second place, Eusebio made his move and overtook Sevigny. He then expanded his advantage setting up a final stage scenario where the only way Eusebio was going to be beat was if he fell apart.
That did not happen as Eusebio shot the second fastest time on the final stage of the match to end with a winning time of 80.27 seconds.
Sevigny, who shot a custom built open Glock 17, posted his best Steel Challenge finish taking second in a time of 82.84 and proving along the way that the Glock platform can contend in a match dominated by the 1911. Earlier in the match Sevigny won the the Limited division title and placed second in the Open Rimfire division which, with his Open division finish, won him the 2010 Steel Master title.
Finishing third in the Open division was Team Smith & Wesson's Jerry Miculek who again faced off against a field of semi-auto pistols with his Smith & Wesson open sight revolver and still managed to post a time of 83.88.
Both Sevigny and Miculek took top honors on one stage each with Sevigny topping the field on Outer Limits and Miculek on Showdown.
Taking fourth was the 2004 World Speed Shooting Champion Tatsuya Sakai of Japan who shot a time of 85.35.
Finishing fifth was defending champ Michel whose time of 85.88 put him 5.61 seconds out of first. The three time World Speed Shooting Champion fell behind after suffering a 14.50 time on the stage Pendulum where he holds the current world record of 10.07 seconds.
Elsewhere in the Open division contest Ryan Leonard of Oregon City, Ore. finished tenth overall to win the Junior World Speed Shooting title with a time of 92.39.
Jessie Abbate won the Women's World Speed Shooting title, and the Women's Steel Master title, for the second year in a row.
The Steel Challenge World Speed Shooting Championships were held August 19-21 in Piru, Calif. For more information on the Steel Challenge and the Steel Challenge Shooting Association, visit www.SteelChallenge.com or follow @SteelChallenge on Twitter.
About the SCSA:
The Steel Challenge Shooting Association (SCSA) is the national governing body of the sport of Speed Shooting and organizer of the Steel Challenge World Speed Shooting Championships. To learn more about the Steel Challenge Shooting Association and the Steel Challenge visit the Web site at www.steelchallenge.com. There you will find diagrams of the stages of fire, complete listing of past results, a list of past champions, world record times and more.