Final Approach Eliminator Cargo Blind Wins Field & Stream Best of the Best Award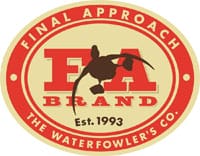 Overland Park, KS. –-(AmmoLand.com)- The Eliminator Cargo Blind (E.C.B.) from Final Approach has been chosen by Field and Stream as one of their Best of the Best products for 2010.
The Eliminator Cargo Blind is a full featured layout blind with removable wheels that makes it easy to move up to a dozen full body decoys, four dozen silhouettes or over 200 rag decoys, plus your gun, flags and other gear quickly and easily to your hunting spot.
The E.C.B. is made with a sturdy lightweight aluminum frame and is covered in durable 600-denier poly fabric with a waterproof coating, along with ¾ inch closed cell foam in the base to insulate the hunter from the cold.
Products selected for Field and Stream's Best of the Best awards are tested by the magazine's staff, along with some of the top hunters and shooters in the country.
"Winning this award is a real honor", said John Mullett, Product Director for Final Approach. "Products selected for Best of the Best are tested under rigorous conditions and only those that meet the high expectations of the testers make the cut."
For more information, visit www.fabrand.com or call consumer inquiries at 800-423-3537.
Bushnell Outdoor Products is a global manufacturer and marketer of branded consumer products based in Overland Park, Kansas. Bushnell Outdoor Products sells its products worldwide under the Bushnell, Tasco, Serengeti, Bollé, Cébé, Uncle Mike's Law Enforcement, Stoney Point, Hoppe's, Butler Creek, Millett, Uncle Mike's, Final Approach and Simmons brand names. For information about any of these brands or products, please contact Bushnell Public Relations at (913) 752-6105.