Michigan DNRE Honors Earl Bevins of Big Bay as Partner in Conservation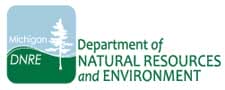 Michigan –-(Ammoland.com)-Big Bay Sportsman's Club president Earl Bevins was honored with a Department of Natural Resources and Environment Partner in Conservation Award at the recent Natural Resources Commission meeting in Escanaba, Mich.
Bevins was honored for his dedication to teaching hunter education classes for the past 54 years. It is estimated that he has spent more than 2,000 hours volunteering to organize and teach the classes, both in Macomb County from 1956 to 1995, and in Marquette County from 1995 to present.
"Earl Bevins has been a good partner to the DNRE for a long time, dedicating more than 54 years to the mission of educating tomorrow's outdoorsmen and women," said DNRE Director Rebecca Humphries.

"He continues to find ways to involve his community in the conservation of our natural resources and environment, and we greatly appreciate his efforts."
Bevins has been active in his local sportsman's clubs, serving in the past as the president, vice president, and as a member of the board of directors for the Macomb County Sportsman's Club. Now serving as the president of the Big Bay Sportsman's Club, Bevins has helped the club with numerous projects to improve the clubhouse and develop a top-notch shooting range.
The DNRE also recognized Bevins' role in helping the DNRE Fisheries Division improve the fishery on Big Bay by coordinating fish plantings and sucker removal. Additionally, Bevins plays an instrumental part in the success of the annual Big Bay Fishing Derby, which draws hundreds of anglers to the lake each year.
Individuals and organizations are nominated for the Partner in Conservation Award by DNRE employees for outstanding volunteer efforts to assist the department in natural resources protection and conservation. The award is given out six times a year at NRC meetings.
The Department of Natural Resources and Environment is committed to the conservation, protection, management, and accessible use and enjoyment of the state's environment, natural resources and related economic interests for current and future generations. Learn more at www.michigan.gov/dnre.