Mule Deer Foundation Announces New Regional Field Director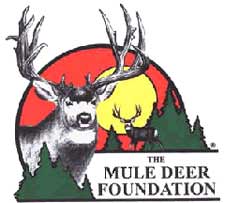 SALT LAKE CITY, Utah –-(Ammoland.com)- Marshall Johnson of Billings, Mont., will be joining the Mule Deer Foundation (MDF) as Regional Field Director for Montana and North Dakota.
The organization has experienced rapid growth in the Northwest over the past several years, and Johnson will help coordinate efforts to further the MDF mission of ensuring the conservation of mule deer and their habitat.
Miles Moretti, President/CEO of the Mule Deer Foundation said, "MDF has had explosive growth in Montana over the last three years. We now have nine very active chapters in the state, have funded numerous habitat projects, and have partnered on two large land purchases – opening up thousands of acres to public access and hunting."
Moretti continued, "We are glad to welcome Marshall to the MDF family. He is the right person to help grow the organization in Montana and North Dakota. Marshall's background in sales will be a valuable asset in working with chapters, landowners, agencies and other conservation groups."
An avid hunter and fisherman, Johnson was born and raised in Bismarck/Mandan, N.D., and graduated in 1992 from North Dakota State University in Fargo.
He began his 20-plus year career in the newspaper/advertising industry in Montana – first in Billings for five years, then in Great Falls for two years. Most recently, Johnson was the Advertising Director for the Telegraph Herald in Dubuque, Iowa.
Johnson helped start the MDF Lake Agassiz Chapter in Fargo, N.D., in 2007 and served as co-chair for two years before his move to Dubuque.
"I am excited to be moving my family back to Montana," exclaimed Johnson. "Working with our chapters and growing MDF are my top priorities. I look forward to helping improve Mule Deer populations, increasing public access, and developing long-term relationships with our partners throughout Montana and North Dakota."
Family, friends, Montana and the Mule Deer Foundation drew Johnson back to Big Sky Country where he will once again be residing in Billings with his wife of 19 years, Pat, and their two sons, Spencer (13) and Brett (11).
About MDF (www.muledeer.org)
The Mule Deer Foundation is a national non-profit 501c3 organization, with over 10,000 members. MDF's mission is to ensure the conservation of mule deer, black-tailed deer and their habitats. MDF is dedicated to restoring, improving and protecting mule deer habitat (including land and easement acquisitions) resulting in self-sustaining, healthy, free ranging and huntable deer populations; encouraging and supporting responsible wildlife management with government agencies, private organizations and landowners; promoting public education and scientific research related to mule deer and wildlife management; supporting and encouraging responsible and ethical behavior and awareness of issues among those whose actions affect mule deer; and acknowledging regulated hunting as a viable component of mule deer and black-tailed deer conservation.
For information about the Mule Deer Foundation or to join please call 1-888-375-DEER (3337) or visit www.muledeer.org.