Sitka Gear with GORE OPTIFADE Forest Pattern Camo Now available at Retailers
Gear with Concealment Pattern Based on Animal Vision is Now Optimized for Hunting Whitetail Deer in Wooded Environments.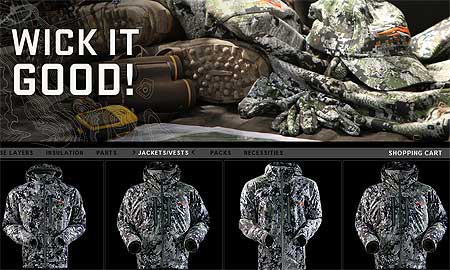 Elkton, MD –-(Ammoland.com)- W.L. Gore & Associates, a leading manufacturer of advanced technology products including the GORE-TEX brand, and Sitka Gear today announced that Sitka Gear with GORE OPTIFADE Forest pattern is now available at select retailers throughout the country. The gear is optimized for hunting whitetail deer in tree stands and wooded environments.
The new line from Sitka marks its first entry into the whitetail market. Sitka's forest line anticipates the long hours that treestand hunters may have to endure adverse weather conditions, such as extreme cold and precipitation, incorporating advanced technical fabrics for maximum warmth and protection from the elements. Ingredient technologies include GORE-TEX waterproof breathable fabric, windproof, breathable WINDSTOPPER fabric and 700 fill goose down. The forest gears also features a lightly brushed face for quiet.
Sitka's forest gear features the new GORE OPTIFADE Concealment Forest pattern. Like the Open Country pattern, which was introduced to the market last year, Gore's new Forest pattern is based on the study of animal vision. In addition to considering how whitetail deer see, both spatially and colorimetrically, the Forest pattern takes into account the specific elements of hunting from a treestand. The pattern has been tweaked to make it more effective in light of the elevated angle of attack, the vertical visual effect of trees and the closer engagement distances common in whitetail hunting.
This is the second year in which Sitka and Gore have brought gear featuring OPTIFADE concealment to the hunting market. Gear featuring the original OPTIFADE Open Country pattern, the first-ever concealment designed from the prey's point of view, was optimized for spot and stalk hunting in a mountain west environment. The companies report 2009 sales as robust.
Leading outdoor retailer, Cabela's was one of the first to carry Sitka gear with the original OPTIFADE concealment pattern. Its stores now offer the new forest pattern gear.
"Cabela's is very satisfied with sales we have experienced to date. Deer are being pressured more and more, and hunters, particularly bowhunters, need a higher level of performance from their concealment. New technologies are where the excitement is, and the forest pattern is a fresh approach," said Ev Tarrell, divisional director of merchandising: huntingwear for Cabela's. "As hardcore hunters ourselves, Cabela's is excited to bring the innovation of Gore and Sitka to like-minded customers among our family of devoted outdoor enthusiasts."
"OPTIFADE represents the future of visual concealment for hunters," said David Dillon, hunting category leader at Gore. "We will continue to use our scientific understanding of animal vision to develop concealment that makes hunters seemingly invisible to their prey, and, as with the new Forest pattern, we will optimize that animal-based concealment for different environments and terrains. Our goal is always to provide our hunters with the best possible outcomes in the field."

"Sitka was founded by hunters. We understand that when you are comfortable, you are more focused and effective out in the field," said Jonathan Hart, founder of Sitka. "From our complete layering system, to the most scientifically advanced visual concealment patterns, to the smallest details of our gear, Sitka is focused on the ultimate comfort of every serious hunter."
Sitka Gear featuring the GORE OPTIFADE Forest pattern is available at select retailers. To search retailers, visit www.optifade.com or www.sitkagear.com.
About W.L. Gore & Associates (www.gore-tex.com)
Perhaps best known for its consumer products like GORE-TEX fabric and ELIXIR guitar strings, Gore is a leading manufacturer of thousands of advanced technology products for the electronics, industrial, fabrics and medical markets. The company is headquartered in Newark, Delaware, posts sales of approximately $2.6 billion, and employs 9000 associates at 30 locations throughout the world.
GORE, GORE-TEX, OPTIFADE and designs are trademarks of W. L. Gore & Associates, Inc.© 2010 W. L. Gore & Associates, Inc., 295 Blue Ball Rd., Elkton, Maryland, 800-431-GORE, gore-tex.com.
About Sitka Gear, Inc. (www.sitkagear.com)
Sitka Gear is the leading manufacturer of high-performance hunting apparel that utilizes cutting-edge technology to keep hunters warm, dry and comfortable in any condition. For more information about Sitka visit www.sitkagear.com or call 877.SITKA-GR.