Wolf Pup Captured and Released in Michigan's Lower Peninsula
Wildlife experts say there's evidence wolves are breeding in the northern Lower Peninsula, a century after their extermination.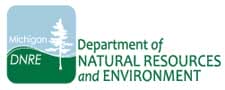 CHEBOYGAN, Mich. –-(AmmoLand.com)- The United States Department of Agriculture – Wildlife Services, in partnership with the Michigan Department of Natural Resources and Environment, trapped a wolf pup early last week in the northern Lower Peninsula. This occurred during an effort to trap and place a radio-collar on a wolf following the verification of a wolf pack in the northern Lower Peninsula earlier this year.
"If efforts to trap and collar an adult wolf are successful, we will have the ability to better monitor the distribution, activities, and number of wolves in the region," said Jennifer Kleitch, wildlife biologist for the DNRE.
Don Lonsway, a USDA Wildlife Services employee from the Upper Peninsula, was recently successful in capturing and releasing a wolf pup in Cheboygan County, where trapping efforts are continuing.
"This is the first evidence of wolf breeding in the Lower Peninsula since the population was extirpated in the early 1900s," Kleitch said. "It indicates that we have at least one breeding pair in the region and the potential for a growing population."
Although the wolf population has exceeded recovery numbers for over 10 years, the animal is listed as an endangered by the U.S. Fish and Wildlife Services, and the DNRE does not have full management authority for this animal in Michigan.
"This is another example of how wolf recovery has been successful; however, it also underscores why Michigan needs full authority to manage these animals as they begin to expand across this state," explained DNRE Wildlife Division chief Russ Mason.
The 23-pound male pup was in good health. An identification tag was placed in the ear and the pup was released on-site unharmed.
The DNRE and its partners will continue to monitor the wolf population in the region and encourage those with recent wolf observations to report their sightings online at www.michigandnr.com/wildlife/pubs/wolf_obsreport.asp.
The Department of Natural Resources and Environment is committed to the conservation, protection, management, and accessible use and enjoyment of the state's environment, natural resources, and related economic interests for current and future generations. Learn more at www.michigan.gov/dnre.