50th World Shooting Championships Munich, Germany: Day 4 Report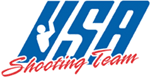 MUNICH, GERMANY– Yesterday's Men's Junior Trap was a high scoring and competitive event, with a dramatic shoot-off for fourth place.
The Men's Junior Team of Matthew Gossett, Casey Wallace, and Morgan Harbison climbed the podium for a team silver medal. Individually, Harbison (Farmersville, Texas) finished 42nd with 107 total targets and Wallace (Castaic, La.) finished eighth with 116 total targets. Gossett (Springville, Ala.) was in a three-way tie for fourth place at 118 targets, which required a shoot-off to determine a clear winner.
Facing Valero Grazini of Italy and Martin Dvorak of the Czech Republic, Gossett stepped up to the line after the Men's Trap shoot-off where the first three contenders missed their targets. Leading the trio, Gossett nailed target after targets for ten straight birds. Finally, Dvorak fell after his ninth target and left Grazini and Gossett in a sudden-death showdown. With amazing nerves of steel and the same two-shuffle approach to settle into his shooting stance, Gossett banged away for sixteen straight targets! As Grazini brought his gun down from his sixteenth shot, Gossett fist pumped in victory at his competitor's miss.
Gossett said, I'm happy to be here at my first World Championships and pleased with my performance in fourth…I'm am also very excited about our team's silver medal."
Jake Turner of Richland, Wash., has every reason to be proud of his first international final performance. Turner made the finals in the Men's Trap event after a seven person shoot-off for only two slots–fifth and sixth. Tied at 121 targets, Turner watched as the first three shooters missed their chance to enter the finals. Shooting fourth, Turner stepped up to the line and cleanly broke his target. In a much shorter miss-out than the junior men, Turner and Spain's Alberto Fernandez advanced to the final round after the second target. In a very low-scoring final, Turner (along with three other competitors) shot 18 targets; yet coming in one short, he couldn't make up the deficit and remained in sixth place with a final score of 139 targets. Also finishing for the USA was Dominic Grazioli (San Antonio, Texas) and John Mullins (Port Orchard, Wash.), both at 118 targets.
In Men's 10m Air Pistol, SFC Daryl Szarenski (Seale, Ala.) was the highest scoring American in a very difficult field. Szarenski shot for 578 points with 21 center hits. His teammates Brian Beaman (Selby, S.D.) and Jason Turner (Rochester, N.Y.) finished 40th and 91st respectively.
Will Brown (Twins Falls, Idaho) was the highest placed American in the Junior Men's 10m Air Pistol event. Brown finished in eleventh place with a total of 573 points and an impressive 20 center hits. Alexander Chichkov (Temple Terrace, Fl.) and Christopher Hudock (Raleigh, N.C.) finished 61st and 62nd respectively, with 552 and 551 points.
Finally, in Junior Women's 25m Pistol, Resident Athlete Hannah Lewis (Colorado Springs, Colo.) scored 547 total points for 38th place. Lauren Brester (Bozeman, Mont.) finished with 524 points for 48th place and Taylor Gallegos (Prosper, Texas) shot for 478 points and 49th place.
For complete scores and rankings, please visit the ISSF Website.
ELEY
ELEY is a Proud Sponsor of the USA Shooting Rifle and Pistol Teams: ELEY Limited, manufacturer of the world's most consistently accurate rimfire ammunition, has been the Official Sponsor and Official Supplier of .22 rimfire ammunition of the USA Shooting rifle and pistol teams since 2000. For more information on ELEY and their products, please visit www.eley.co.uk.
Winchester Ammunition
Winchester Ammunition is a Proud Sponsor of the USA Shooting Shotgun Team: Winchester® Ammunition has been the exclusive ammunition sponsor and supplier of the USAShooting Shotgun Team since 1999. Members of the 2008 shotgun team brought home four medals from Beijing using Winchester AA International Target loads. Winchester is an industry leader in advancing and supporting conservation, hunter education and our country's proud shooting sports heritage. For more information about Winchester and its complete line of products, visit www.winchester.com.
Dallas Safari Club
Dallas Safari Club (DSC) is a proud sponsor of USA Shooting's Junior Team to the World Shooting Championship Team in Munich, Germany. An independent organization since 1982, DSC has become an international leader in conserving wildlife and wilderness lands, educating youth and the general public, and promoting and protecting the rights and interests of hunters worldwide. For more information on DSC visit www.biggame.org.
About USA Shooting:
USA Shooting, a 501c3 non-profit corporation, was chartered by the United States Olympic Committee as the National Governing Body for the sport of shooting in April 1995. USA Shooting's mission is to prepare American athletes to win Olympic medals, promote the shooting sports throughout the U.S. and govern the conduct of international shooting in the country. Check us out on the web at www.usashooting.org and on Twitter at twitter.com/USAShooting.