Immediate Action Needed: 3 Pro-Hunting Bills Considered by CA. Governor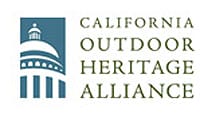 SACRAMENTO, CA –-(Ammoland.com)- The California Outdoor Heritage Alliance (COHA) is asking California hunters, as well as our 40-plus member organizations, to contact the Governor's office as soon as possible in support of three separate pieces of state legislation.
The following COHA-sponsored bills received broad bipartisan support within the State Legislature, and are currently awaiting consideration by Governor Schwarzenegger:
SB 1058 (Harman) would provide accountability and transparency over the expenditure of hunting license tag/stamp monies to help ensure that such monies are used for game species conservation and public hunting purposes. The bill would create a single, consolidated fiscal account for all big game tag monies, create an advisory committee of sportsmen's groups to review and provide comment on proposed expenditures of hunting license tag/stamp monies and facilitate greater nonprofit assistance with related conservation projects. For a sample letter visit www.outdoorheritage.org
AB 1254 (Berryhill) would authorize the Department of Fish and Game to temporarily suspend, as well as seek reimbursement of, a County's expenditure of Fish and Game (DFG) fine monies should DFG find that the County is improperly spending such funds on purposes unrelated to fish and wildlife conservation. The bill also authorizes DFG to offer incentives (e.g. special hunting opportunities) to hunter education instructors in order to recruit and maintain a sufficient number of instructors statewide. For a sample letter for a sample letter visit www.outdoorheritage.org
AB 979 (Berryhill) would keep local governments from arbitrarily banning or restricting hunting and fishing activities. This measure is necessary as growing urban development and other recreational uses continue to infringe on traditional hunting and fishing areas. For a sample letter visit www.outdoorheritage.org
Support letters may be faxed to the Governor at 916-558-3160. You may also email his office at http://gov.ca.gov/interact
Thank you for your assistance!
About:
The California Outdoor Heritage Alliance (COHA) is a partnership of conservation organizations, outdoor industry, other related interests and individuals who support science-based wildlife management and the preservation of our hunting rights in California. COHA is a 501(c)4 Political Advocacy organization dedicated solely to influencing legislative, regulatory and administrative policy decisions which promote wildlife conservation and our outdoor heritage. For more information about COHA, visit www.outdoorheritage.org.