Arizona Game and Fish Commission Meets on Friday
Public may attend in Phoenix, view live webcast, or comment at local regional offices.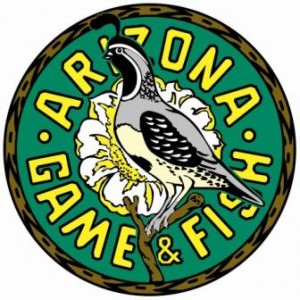 PHOENIX, AZ – -(Ammoland.com)- The Arizona Game and Fish Commission will hold its next regularly scheduled meeting on Friday, Sept. 10 at the Arizona Game and Fish Department headquarters at 5000 W. Carefree Highway in Phoenix (1.5 miles west of I-17).
The meeting begins with an executive session at 8 a.m., followed by the public meeting.
Items on Friday's agenda include:
Discussion of the recently conducted department employee survey.
Update on state and federal legislation.
Briefings on activities related to the department's information, education, wildlife recreation, shooting ranges/shooting sports, lands/habitat, and law enforcement programs.
Consent agenda items.
Hearings on license revocations for violations of Game and Fish codes and civil assessments for the illegal taking and/or possession of wildlife (2 p.m. time certain).
The commission may vote to take action or provide the department with direction on the agenda items.
The public has three options for viewing the meeting: (1) Attend the meeting in person in Phoenix; (2) View it via video stream at one of six Game and Fish regional offices (Pinetop, Flagstaff, Kingman, Yuma, and Tucson; addresses are available at www.azgfd.gov/offices); (3) View it over the Web at www.azgfd.gov/commissioncam.
Those wishing to submit "blue slips" to present oral comment during the meeting must do so either in person at the Phoenix meeting or at one of the six Game and Fish regional offices showing the video stream.
For a complete agenda, visit www.azgfd.gov/commissioncam and click on the meeting agenda link.
The Arizona Game and Fish Department prohibits discrimination on the basis of race, color, sex, national origin, age, or disability in its programs and activities. If anyone believes that they have been discriminated against in any of the AGFD's programs or activities, including employment practices, they may file a complaint with the Deputy Director, 5000 W. Carefree Highway, Phoenix, AZ 85086-5000, (602) 942-3000, or with the Fish and Wildlife Service, 4040 N. Fairfax Dr. Ste. 130, Arlington, VA 22203. Persons with a disability may request a reasonable accommodation or this document in an alternative format by contacting the Deputy Director as listed above.