Bear Hunt With Kids Could Set World Record
By Troy Jens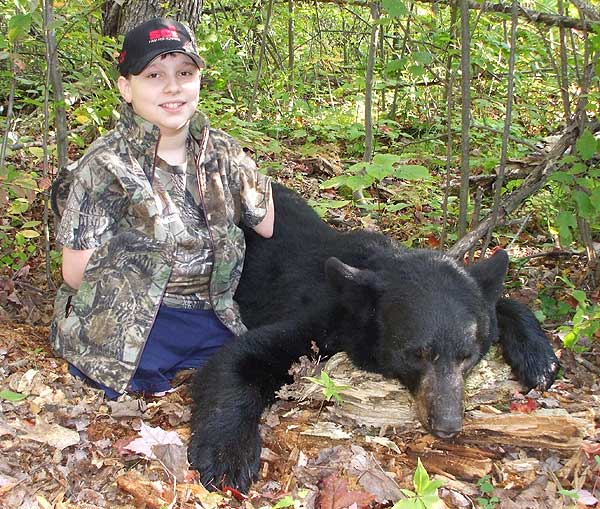 Pittsville Wisconsin –-(Ammoland.com)- "When I first started this charity, I never dreamed it would become the largest outdoor wish granting charity in the Nation for kids and families who endure life-threatening and chronic illnesses."
Those words from Brigid O'Donoghue, the founder and CEO of the United Special Sportsman's Alliance, a strictly volunteer 501(c)(3) charity that has granted thousands hunting and outdoor wishes for children in over 34 states.
Excitement mounts as each year, the growing group of young hunters head out into the woods on what will most likely be their only chance to ever hunt a bear.
Many of the kids have critical illnesses, all of which are overcome by help from gracious hunters who have donated their bear tags to them.
"There are no boundaries and no limitations here," says O'Donoghue, "It's all about the kids and we make a way for them".
Land owners, guides and a multitude of volunteers transport, care for and take these kids hunting. The donations from sportsmen make incredible life-long memories everyone who is involved.
Taxidermists donate the mounts for each child that gets a bear, helping to keep the memory forever lasting in the lives of the kids and their families.
The pictures, the videos and the mounts are often the reminders of some incredible moments of sharing after a child who participated loses the battle with disease or illness.
This season, 41 tags have been acquired, making this the largest bear hunt ever to take place in the world.
Last season, 39 tags were made available and 27 bear were harvested by the children who took part in the hunt.
O'Donoghue says, "I can't say enough how thankful we are. The families, the volunteers, even other charities have made a collective effort to create this opportunity and to pass on excitement and tradition".
She adds that it is a massive effort, but the smiles and the stories from the kids and from all of those who take part make it a very worthwhile endeavor.
For information on this special wish granting charity, visit the USSA at www.childswish.com
About:
United Special Sportsman Alliance, Inc. (USSA) is a 501(c) (3) non-profit "dream wish" granting charity, that specializes in sending critically-ill and disabled youth and disabled veterans on the outdoor adventure of their dreams! USSA adventures give our youth and veterans something to look forward to, and help sustain them in their time of need! Families are whisked away from the mundane, man-made world of hospitals, and high medical bills by giving them a place of peace to focus on the quality of life, family ties, and the wonders of our natural world! USSA is composed of a 100% volunteer staff from all walks of life, bonded together by a common love for our fellow mankind and a deep respect and appreciation of our world's natural resources. Visit: www.childswish.com