CSF Board of Directors Elects New Leadership & New Board Member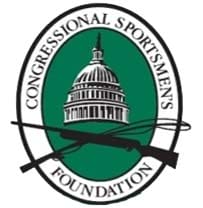 Washington, DC –-(Ammoland.com)- On the heels of the most successful annual banquet and auction to date, the Congressional Sportsmen's Foundation (CSF) Board of Directors selected officers for 2011 and voted to approve Walter McLallen as a member of the Board.
Lindsay Thomas, former Congressman from Georgia, former Co-Chair of the bipartisan Congressional Sportsmen's Caucus (CSC) and current Vice-Chairman of the CSF Board, was elected by his peers to serve as Chairman of the Board.
Current Secretary of the CSF Board and President of the Boone & Crockett Club, Robert Model, was elected to serve as Vice-Chairman, and CSF Board member and President of Lipsey's and Haspel, Laurie Aronson, was elected Secretary. Paul Miller remains Treasurer, and long standing member Phil Morlock of Shimano, was selected to continue his service as Honorary Board Chairman.
"Our mission is to support and unite the consensus of the over 300 members of the Congressional Sportsmen's Caucus, the over 2,000 state legislators of the National Assembly of Sportsmen's Caucuses and the 28 state chief executives of the Governors Sportsmen's Caucus in the bi-partisan effort of protecting the interests and concerns of America's hunters and anglers," said Thomas.

"This means not only protecting the rights of America's sportsmen but seeing that the natural environment that sustains our wildlife resources is protected and enhanced for future generations."
McLallen is an avid sportsman and outdoorsman and is the founder and a Managing Director of Meritage Capital Advisors, a financial advisory boutique engaged in corporate finance, private equity origination and asset management. He has been an investor and member of the Board of Directors of The Freedom Group, the largest firearm and ammunition company in the nation, and its predecessors since 2006 and currently serves as Vice Chairman of the Board of Directors.
"CSF is fortunate to have exceptional and quality individuals serving on our board. Their insights, counsel and guidance have been invaluable while increasing our role as the leader in organizing state and federal elected officials to promote a pro-sportsmen's agenda," said CSF President Jeff Crane.