Firearms Training In Chicago Believe It Or Not
By Executive Director Shaun Kranish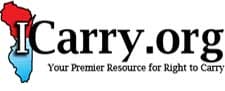 Illinois –-(Ammoland.com)- We've come across a real bulldog in the City of Chicago – a state licensed firearms instructor.
Chicagoland Detective Services/Firearm Training on Milwaukee Avenue!!!
As a state-licensed firearms training firm, they are exempt from Chicago's gun ordinances. Chicago tried to shut them down long ago, but they prevailed in court and have been operating ever since.
They are offering NRA Basic and First Steps training so Chicago residents can get their Chicago permits. They offer Utah CCW permit classes and processing, armed and unarmed state security training, and much more.
Because Chicagoland Detective Services/Firearm Training has stood up against the city, refusing to fold to pressure to shut down, and continues to train thousands of Chicago-area residents in firearm proficiency, ICarry.org has partnered with them to provide more training to more people with convenient online sign-up!!
Get fantastic training and support two organizations that are fighting Chicago to defend your rights.
Click Here to see our new Training Center in the ICarry Store and see what we're talking about. You will also notice these classes appear on our Calendar.
Chicago and the surrounding areas are the front lines in Illinois fight to restore the protection of the individual's fundamental right to keep AND bear arms. The more training, carry permits, FOID cards, gun ranges and shops, and gun owners we can accumulate in this area, the faster things will change. It's time for gun ownership to come out of the closet. Tell a friend you are proud to exercise the sacred right to self-defense – the right to own and carry a firearm.
Below is some interesting background info on Chicago
The eyes of the country have been on Chicago due to Mayor Daley and his political cohorts refusing to respect the individual's fundamental right to keep and bear arms. Gun owners were forced to take Daley to court – all the way to the US Supreme Court to get him to live up to his oath to UPHOLD and DEFEND the Constitution.
The Supreme Court declared the individual right to keep and bear arms to be a fundamental right, pre-existing to the Constitution itself, and enshrined in the Constitution to protect the individual from the federal government, state governments, and local governments. How did Daley respond?
He said you can now own a pistol, but you can only have 1 usable gun in your home. Your garage, porch, and yard aren't considered part of your home. You can own a pistol, but you can't buy one in the city because gun stores are banned. You MUST get training, and that training MUST include live fire. Firing ranges are also banned, so you will have to travel out of the city to complete your training as well.
Pay us some money – $100 or more – go through all of our paperwork and training, and you can eventually own a gun legally. Do you think that's what the framers of our Constitutional protections had in mind when drafting the 2nd Amendment – the right that SHALL NOT BE INFRINGED.
Of course not!!!
ICarry.org, its attorney Walter Maksym of Chicago, and President Joe Franzese, a federally-licensed firearms dealer, were the first to file suit against Chicago after Mayor Daley passed (unanimous vote of city council) his new ordinance.
About:
ICarry.org, a website devoted to to bringing concealed carry to Illinois and Wisconsin – the only two states without it.