Illinois State Rifle Association brings home Outstanding State Association award from NRA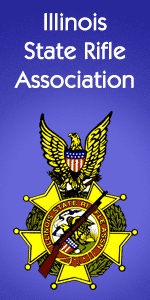 Illinois –-(Ammoland.com)- Your Illinois State Rifle Association has been named Outstanding State Association for 2009 by the National Rifle Association of America.
ISRA President Don Moran commented:
"This prestigious award is due to the hard work and dedication that continues to allow the ISRA to remain a preeminent leader in the fight for firearms rights across Illinois and the United States."
Don Moran and ISRA Executive Director Richard Pearson received this award last night, Friday, Sept 10, at NRA Headquarters in Fairfax, Virginia, on behalf of the ISRA, its members, officers and directors.
Upon receiving word earlier this year that the ISRA was a recipient of this award, Richard Pearson noted:
"This award also pays homage to the many dozens of volunteers who make ISRA's shooting sports programs some of the best in the Nation, and even the world.

Your dedication to the sport has opened up countless shooting opportunities to a whole new generation of enthusiasts.

Your continued service will ensure that both competitive and recreational shooting remain one of the safest and most rewarding of America's pastimes."
Join ISRA
ISRA needs your continued support in order to remain the strong defender of your right to keep and bears arms. McDonald v Chicago was not the end of the fight but the beginning. The ISRA continues the fight for your firearm rights here in Illinois, with additional federal litigation against the City of Chicago.
Please make a donation on-line here , or over the phone at 815-635-3198. If you would like to mail or fax a donation, we have a printable form here .
If you're not an ISRA member, now is the time. You can join on-line , or over the phone at 815-635-3198. You can download a printable application form here .
About:
The ISRA is the state's leading advocate of safe, lawful and responsible firearms ownership. Since 1903, the ISRA has represented the interests of over 1.5 million law-abiding Illinois firearm owners Visit: www.isra.org