Interview with Black Man with a Gun's Kenn Blanchard
A fun loving, zombie shooting, Harley riding, inspirational Christian pastor that encourages the American family on his podcast.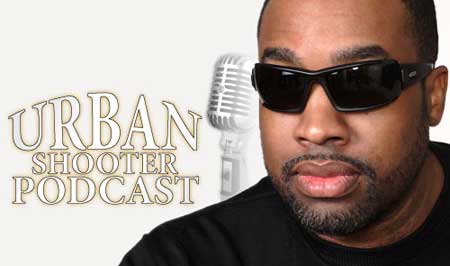 Upper Marlboro, MD –-(Ammoland.com)- Rev. Kenn Blanchard hosts a listener supported variety show for all law abiding gun owners, air-soft, air-gun, and paintball enthusiasts. The weekly podcast is produced by the pastor of a Christian church in Washington, DC. He is also a former US Marine, federal police officer and firearms trainer. On his show he shares life lessons, and grassroots information with humor, guest interviews, commentary, and gun reviews unlike anyone on the internet.
Why Urban Shooter?
"It's called the urban shooter because it is focused on people that shoot and live in or near a city or town, but all are welcomed."
Blanchard believes it might be a little tougher to enjoy your freedom in a city so his show is when you might need a laugh to keep from crying or sing a little song to keep your spirits up. You'll get it all here from the activist known internationally as the Black Man With A Gun.
Blanchard has worked as an self defense activist since 1991. He has lived in Brazil and England. He has traveled to over fifteen countries. He has lobbied the US Congress. He has testified in the state legislatures of Virginia, Texas, South Carolina, Michigan, Maryland, and Wisconsin. He has done commercials for TV against racist gun laws and been featured in three documentaries. He has debated nationally known anti-second amendment people on national television.
He is available for speaking engagements, personal consultations, prayer, preaching, voice over work or your next BBQ. 888-675- 0202. www.blackmanwithagun.us or [email protected]
The Urban Shooter show is also available on iTunes and has an iphone APP .
Follow me on twitter.com/urbanshooterpod Facebook.com/kennblanchard
Forum: www.blackmanwithagun.info
And the show notes on www.urbanshooterpodcast.com
Kenn Blanchard The Urban Shooter Podcast "The Pro-Gun Variety Show"
"Holla" 1-888-772-6262
www.UrbanShooterPodcast.com
www.blackmanwithagun.com
About:
Urban Shooter PodCast is a listener supported variety show podcast for all law abiding gun owners, air-soft, air-gun, and paintball enthusiasts of the city hosted by author, instructor and activist, Kenn Blanchard. The weekly shows share grassroots information on what's going on, mixed with humor, guest interviews, commentary, gun safety, marksmanship and listener feedback. Visit: www.urbanshooterpodcast.com