No Guns For Jews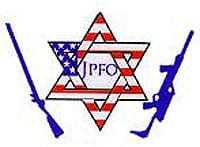 Hartford, WI –-(Ammoland.com)- This new film produced by JPFO is essential viewing, showing as it does just how many Jews, many in power, continue to be promoting "Gun Control". The comment from most gun owners hinges on the "do some people never learn anything from history"?
If any historic proof was needed regarding Gun Control", you only have to review the JPFO Genocide Chart, to see how disarmament equates to victims, often on a large scale.
Read about the film "Nazi Death Camps" – a chilling JPFO movie. A recent event August 31st 2010 when four people were brutally shot to death in their car (including a pregnant woman) further highlights the tragedy of gun control – Read an article that further proves the validity and necessity for "No Guns For Jews".
This is a 40 minute five part sequential viewing hosted on YouTube.
About:
Jews For The Preservation Of Firearms Ownership Mission is to destroy "gun control" and to encourage Americans to understand and defend all of the Bill of Rights for everyone. Those are the twin goals of Wisconsin-based Jews for the Preservation of Firearms Ownership (JPFO). Founded by Jews and initially aimed at educating the Jewish community about the historical evils that Jews have suffered when they have been disarmed, JPFO has always welcomed persons of all religious beliefs who share a common goal of opposing and reversing victim disarmament policies while advancing liberty for all.
JPFO is a non-profit tax-exempt educational civil rights organization, not a lobby. JPFO's products and programs reach out to as many segments of the American people as possible, using bold tactics without compromise on fundamental principles. Visit www.JPFO.org Copyright JPFO 2010