Team Safariland Shooters Maggie Reese & Tasha Hanish Win USPSA Multi-Gun Nationals with Safariland ELS Belt System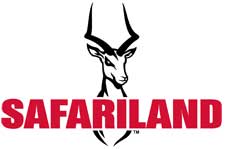 Jacksonville, FL –-(Ammoland.com)- Safariland, a BAE Systems line of business, congratulates Team Safariland shooters Maggie Reese and Tasha Hanish for winning the USPSA Multi-Gun Nationals September 9-12 in Las Vegas, NV. Both shooters repeat last year's victories during the four-day match, which included all the top shooters from around the country.
Competitors shot approximately 400 rounds with handgun, shotgun and rifle to complete the 12 stages of fire. Reese took top honors in the Open Ladies Class, while Hanish won the Tactical Ladies Class, both using the new Safariland ELS Belt and Accessory System.
"Moving from stage to stage, each shooter must reconfigure their rig or belt system to accommodate the requirements of the stage. The ELS and Accessory system makes it a lot easier to set up the rig, giving us more time to study the course of fire," explained Reese.
The entire Team Safariland was using the new ELS (Equipment Locking System), fork and receiver plates, which made it very swift and easy to configure their belt for each course of fire. The ELS components offer a small footprint and a stable platform to allow several to be placed at different angles and locations on the 032 ELS Competition belt. Pouches attach to the fork and they slide easily into the receiver plates mounted to the belt.
"Competing at this high level of competition, you can imagine the pressure each competitor endures. The ELS system helps take some of that pressure off," stated Scott Carnahan, Vice President, Category Marketing for Safariland.

"We are very proud of Maggie and Tasha's accomplishments. Equally important is that they have been instrumental with the development of our gear, especially gear for female shooters."
For more information about the ELS Competition Belt System and Team Safariland, visit www.safariland.com/dutygear. For more information on this event, check out www.uspsa.org.
About Safariland
Safariland, LLC is a premier provider of law enforcement and security products and services, delivering a full-range of customer-specific solutions. Offering many of the world's most recognizable branded products in the public safety market, Safariland is committed to saving lives. For more information about Safariland and its body armor products, as well as information on the new NIJ-06 standard, please visit www.safariland.com.
About BAE Systems
BAE Systems is a global defense, security and aerospace company with approximately 107,000 employees worldwide. The Company delivers a full range of products and services for air, land and naval forces, as well as advanced electronics, security, information technology solutions and customer support services. In 2009 BAE Systems reported sales of £22.4 billion (US$ 36.2 billion).