Win Free Hawke Hunting Optics at NRAhuntersrights.org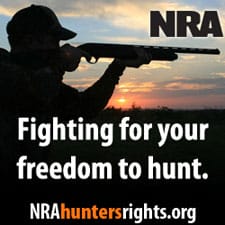 Fairfax, VA--(Ammoland.com)- Visit www.NRAhuntersrights.org during the month of October to enter a special double gift giveaway courtesy of Hawke Sport Optics.
The first gift, a Hawke SideWinder 30 Tactical Series riflescope, provides powerful versatility needed for moderate to long-range shooting.
This 6.5-20×42 scope features an illuminated, glass-etched reticle with ½ Mil dot design for more accurate aiming points, as well as free reticle calibration through the company's online Ballistic Reticle Calculator.
The illuminated red/green reticle has five brightness levels for each color and can be switched to black in the off position, while the scope's fully multi-coated optical system is designed to give a brighter, clearer image in low-light hunting and shooting conditions.
Other features include large turrets with ¼ MOA clicks, adjustable ocular focus with anti-recoil lock ring, non-slip zoom ring with secure thumb bump, 2-inch side focus wheel, 30mm matte black body, 4-inch sunshade, and a protective storage case. Free to one lucky entrant, this scope retails for a suggested price of $449.
The second gift, Hawke's Frontier ED binoculars, feature an open-hinge cutaway design that reduces overall weight (they weigh only 26.2 oz), making them easier to hold for long periods. The 8×43 pair we're giving away has a field of view of 466 feet at 1,000 yards, features precise center focusing, and Hawke's ED glass ensures images are bright and colors remain true. These fogproof and waterproof binoculars also come with twist-up eye pieces, stay-on lens caps, neck strap, and hard protective case. Suggest retail price is $389.
To learn more about Hawke's full line of fine hunting and shooting optics, visit www.hawkeoptics.com.
To submit your name for the October giveaway, visit www.NRAhuntersrights.org and scroll down to "Gift Giveaway" for simple entry instructions. Entries will be accepted Oct. 1 through Oct. 31, and a winner will be announced Nov. 1. One winner will be randomly drawn to receive both gifts.
About:
For the most up-to-date information about your hunting rights there's just one source: www.NRAhuntersrights.org.