Florida Open Carry events to be held in Tampa and Daytona Beach on October 9th
A grass roots community of over 1200 members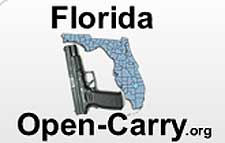 Tampa FL, -(Ammoland.com)- Campaign to restore open carry rights in Florida. Florida Open Carry will hold simultaneous "Open Carry & Fishing Events" in Tampa and Daytona Beach. In the Tampa area at Tampa's DeSoto Park (NOT Ft. DeSoto State Park) and in Daytona at Port Orange's Dunlawton Causeway Park at the main fishing pier on Saturday, October 9th from 10am to 12pm.
Full Details here: http://www.meetup.com/Florida-Open-Carry/calendar/list/
"With important elections only weeks away, now is the time to join together and make ourselves seen by the public and heard by our legislators. We will stand up for our fundamental right of self defense free of unconstitutional restrictions."
Most states require no license to open carry, but Florida is one of only seven states with wide ranging prohibitions on carrying unconcealed handguns, even if properly holstered. This presents a huge problem in the summer heat or while engaged in many outdoor Florida activities.
It's just not practical, or even sometimes possible, to conceal a standard sized handgun in regular summer attire. But in accordance with the current Florida statute 790.25(3)(h), adults may carry an unconcealed handgun, without a license, while lawfully fishing or going directly to and from the fishing area. There are also similar exceptions for hunting, camping, and target shooting.
Florida also preempts all firearms laws under Florida statute 790.33 insuring that counties and municipalities can not impose firearms or ammunition restrictions. This insures equal treatment and identical laws for everyone who is legally armed throughout the state.
Florida Open-Carry.org is engaged in a campaign to restore open carry rights in Florida. If successful, this repeal will eliminate the practical and constitutional problems arising from generally restricting law abiding citizens to only licensed, taxed, and concealed carry in Florida.
About:
Florida Open-Carry.org is a grass roots organization of Florida residents who endeavor to raise awareness in the community of our second amendment rights. Our primary goal is to help educate others about their right to legally open carry and advocate for repeal of the general ban on open carry in Florida. Florida is one of only seven states where open carry is generally prohibited.
Join our Facebook group at: https://www.facebook.com/groups/FLopencarry/