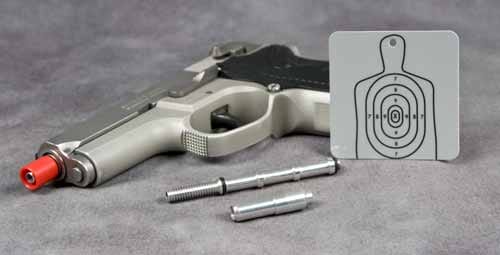 Laser Ammo Takes the Dry out of Dry-Fire Training
Great Neck, NY, -(Ammoland.com)  Laser Ammo Ltd. ("Laser Ammo"), manufacturer of the patent pending SureStrike™ dry fire system, provides the world's safest and most cost-effective laser marksmanship tools that improve skill while reducing training expense.
SureStrike transforms any fully operational pistol into a laser emitting dry-fire training weapon within a few seconds. The SureStrike has dimensions similar to those of a standard ammunition cartridge and is simply loaded into the weapon's chamber through the breech, then held in place with a safety pipe and nut.
Activated only by the firing pin strike, the SureStrike emits a microprocessor controlled, eye-safe laser pulse, or a "shot" of red light, which simulates the point of impact where a bullet fired from the pistol, would have struck. This immediate feedback results in rapid self correction and positive reinforcement. With repetition, such training creates a powerful improvement and learning process which becomes ingrained in the shooter's muscle memory.
SureStrike practice is not limited to marksmanship. It also helps to improve techniques related to sighting, target acquisition, flinching, trigger operation and more. The user can also practice drawing, chambering, magazine change, racking the slide, and holstering, all resulting in better performance, even under pressure.
These advantages benefit a very wide range of users who can now realistically practice with their own handgun. SureStrike helps a new gun owner obtain basic skills, a police officer "freshening up" before a shift, a trainer analyzing a student's performance, a "Fast Draw" hobbyist, and even a shop owner demonstrating a gun for sale!
Incorporated in the SureStrike training kit is the UhrSecure™ safety system, which locks the laser cartridge into the chamber with a safety pipe and nut, thereby, creating a fail-safe mechanism that prevents the loading of a live round. The UhrSecure safety system provides a visual and physical indication of the secure nature of the firearm and enables safe use of the kit for both single and multiple users. The SureStrike has been tested by the Israeli secret service, the IDF anti-terrorism school and Israeli police.
The SureStrike laser training system is under warranty to provide 5,000 "shots". If needed, an inexpensive replacement activation cap is available to guarantee another 5,000 shots. The SureStrike laser training system comes with a 9mm SureStrike laser cartridge, the UhrSecure safety system, a quick-user guide, battery pack and five reflective targets based on classic law enforcement standards, all in a convenient carrying case.
The SureStrike was designed with modularity in mind. Low cost adapters are available to suit .40 S&W, .45 ACP, .45 GAP, .45LC revolvers, and 12 gauge shotguns. Also available are replacement activation caps that allow the SureStrike to function as a bore sight, work with some of the market's leading weapon simulation systems, activate electronic targets, and even use
variable laser beam duration for advanced technique analysis. Customized functions are available for a minimum order.
Laser Ammo's products can be purchased through selected retailers and distributors, as well as at the Company's web site, www.laser-ammo.com.
About Laser Ammo:
Laser Ammo Ltd. develops small arms simulation and training systems, which it sells in the United States through Laser Ammo USA Inc. Laser Ammo's patent pending technology enables dry fire training for hobbyists and experts, as well as law enforcement and military personnel.
With Laser Ammo products, users of all levels can acquire, maintain and improve shooting skills safely – Anytime, Anywhere.