MasterPiece Arms Sub-compact Pistols at NASGW Show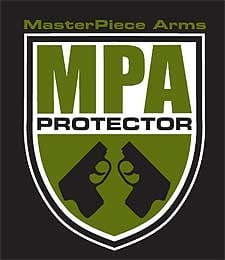 BRASELTON, GA –-(Ammoland.com)- Along with our well known MPA Defender Series line of Mac type Semi Automatic Sub-Machine Guns, MasterPiece Arms will be showing, for the first time, our new MPA Protector Series line of Personal Protection, Conceal Carry, Sub-compact Pistols at the NASGW Show in Louisville Kentucky.
Please stop by booth # 524 and see our new Double Action Only Pistols chambered in .380 ACP and .32 ACP. These are truly unique due to their Design, High Quality, Stunning Appearance and Great Pricing.
Jimmy Payne and Phil Cashin, owners of MPA, will be in Louisville to personally show you why these weapons, which are machined from Solid Steel using no castings or polymers, are the best buy in small personal protection firearms available today.
About:
MasterPiece Arms uses state of the art CNC machining, turning, laser cutting and bending in its manufacturing process. MPA puts more than a year and a half into engineering, testing and re-testing its weapons to provide customers with one of the most enjoyable guns available. With versatile uses such as protection, hunting, tactical or novelty interests, MPA products are one of a kind and backed by a lifetime warranty for original owners. Learn more MasterPiece Arms products at www.masterpiecearms.com,