American Knife & Tool Institute Announces Improved Knife Site
Improves Online Knife Resources with New AKTI.org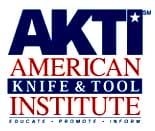 Cody, WY –-(Ammoland.com)- Locate up-to-date information on legal issues that affect knife users, research laws in all 50 states and learn more about the activities of leading knife advocacy organization American Knife and Tool Institute (AKTI) on the redesigned AKTI.org website.
Knife advocates will find extensive legislation updates, educational materials and other current knife information at the new site. While some of the material is available only to members, much of the site caters to all knife users and provides resources for everyone who uses a knife as a tool – whether for work, recreation or as part of their everyday lives.
"For more than a decade, AKTI has used its website to keep the knife advocacy community updated about important issues that affect us all, in all 50 states, and at the federal level," said AKTI Executive Director Jan Billeb.

"This new design makes it easier for knife users to easily find the information they need, from knife safety resources to legislative updates to stories about how knives have been used in challenging work and recreational situations to save lives."
Through its new website, the American Knife and Tool Institute shares information about state and federal knife laws and legislation. The organization has also added sections to the AKTI.org website specifically for legislators, law enforcement officers and media.
"We want to build on the work we've done and the reputation we have as the organization for those who work with or benefit from knives, and to support those who have questions about legal knife usage," Billeb said.
Knife users who wish to support the work of AKTI will find it more convenient to become members or make contributions with an online payment option. Visitors to the site are also encouraged to sign up as Grassroots Supporters of the knife advocacy work that AKTI does; newsletters detailing the latest legislative and legal issues and updates are free to those who enroll.
AKTI worked with Visual People Design (www.visualpeople.com) in Corvallis, Oregon, to design and develop the new AKTI.org website.
The American Knife & Tool Institute (AKTI) is a non-profit organization (501(c)6) representing all segments of the knife industry and all knife users. Formed by concerned industry leaders after considerable discussion with individual knifemakers, knife magazine publishers, and a broad section of the knife community, AKTI has been the reasonable and responsible voice of the knife community since 1998. For updates on this issue and more about AKTI, please see our website at https://www.akti.org.