Christmas Gift Idea For Montana Gun Owners
Washington, DC –-(Ammoland.com)- Think about giving copies of Gun Laws of Montana as a Christmas gift for the gun owners on your Christmas list.
All Montana gun owners should be conversant with the gun laws in Montana.
This book has all of those laws in one place, including updates from the important bills we got through the 2009 legislative session.
There are also separate chapters on Montana concealed weapon permits, use of lethal force, kids and guns, and more.
And, the recipient gets this great cover art from a painting done by my grandfather, Allen True (who also did the bronc and cowboy used on the Wyoming license plate)
There is information for ordering by mail, or by credit card, on my Website: http://www.mtpublish.com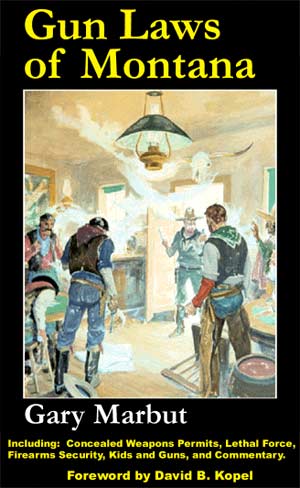 Since I autograph every copy I mail, be sure to give me instructions if the copy you order should be autographed to somebody besides yourself.
The cost for the 2009 edition of Gun Laws of Montana is $12.95, plus $3 for shipping and handling.
If you have a bunch of people on your Christmas list who might like a copy of this important book, cases of books are available at a 40% discount.
Best wishes,
Gary Marbut, president
Montana Shooting Sports Association
http://www.mtssa.org
author, Gun Laws of Montana
http://www.mtpublish.com
About Montana Shooting Sports Association:
MSSA is the primary political advocate for Montana gun owners. Visit: www.mtssa.org