Citizens Committee for the Right to Keep and Bear Arms says PLEASE VOTE!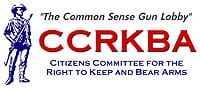 BELLEVUE, WA – -(Ammoland.com)- In this election, please vote like your rights depend on it. They do!
Remember, our firearms freedom is always only one election away from extinction.
I am counting on you not only to vote, but to make sure that your friends and family also vote in what may be the most important election of our lifetime.
Sincerely yours,
Alan M. Gottlieb
Chairman
CCRKBA
About:
With more than 650,000 members and supporters nationwide, the Citizens Committee for the Right to Keep and Bear Arms is one of the nation's premier gun rights organizations. As a non-profit organization, the Citizens Committee is dedicated to preserving firearms freedoms through active lobbying of elected officials and facilitating grass-roots organization of gun rights activists in local communities throughout the United States. The Citizens Committee can be reached by phone at (425) 454-4911, on the Internet at www.ccrkba.org or by email to [email protected]