Goex Powder Making History Again With New Reenactor Gunpowder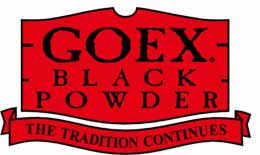 Shawnee Mission, KS -(Ammoland.com)-  Goex® Powder Inc., manufacturer of the only American made authentic black powder for over 200 years, makes history again with the new Reenactor Gunpowder.
This new powder is dedicated to the historical reenactor and the value conscious black powder recreational shooter.
Goex's new Reenactor Gunpowder loads the same by volume charge as regular grade black powder. This new powder is ideal for blank fire in Muskets, Carbines, Pistol, and Cannon. Also suitable for recreational round ball muzzleloaders, where it performs nicely at low pressures and lessens wear on vintage and modern reproduction firearms.
With its 100% percent black powder ignition, it is reliable with every shot. Reenactor Gunpowder is value priced for every budget minded shooter pursuing living history.
New Reenactor Gunpowder in 1lb tin cans will be available at Goex dealers everywhere spring 2011. To find out more about this, or any of Goex's products, call 913-362-9455, write to 6231 Robinson, Shawnee Mission KS 66202 or see goexpowder.com
For all your black powder needs it's Goex The Tradition Continues