Gun Collectors Note from Rock Island Auctions VP Judy Voss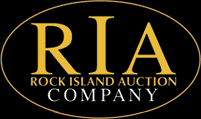 Moline, IL –-(Ammoland.com)- Ammoland Firearms enthusiasts, I just returned from the Tulsa Gun Show and WOW what a show!
On Saturday morning we barely finished pulling the final cover off our tables when the crowd hit. This show is like no other, huge venue and huge crowds.
There was plenty of gun chat, catching up with friends, clients and walking. My feet still haven't forgiven me.
But now I'm back in Illinois and gearing up for our final Premiere Auction of the Year. If you bid at the September auction and missed out on getting what you wanted from the William Ashby Military Collection here's a second chance as Part II is being sold in this December sale.
We are also strong again in European arms and what would a December auction be without amazing Colts – we have over 550 Colts to please the Colt collector. There are 250 plus Winchesters, 400 plus sporting arms – and more. We have just about something for every collector.
Catalogs have been shipping; if it hasn't hit your door yet it should any day now!
Make your plans now to be at the auction. We'll be sure to make your visit a pleasant one. We're located only 5 minutes from the Quad City International Airport (MLI) and major highways I-74 and I-80. If you need assistance with accommodations we're happy to help.
See you December 3, 4 and 5. Full Day Preview December 2nd. If you need to stop in sooner simply give us a call.
Sincerely, Judy E. Voss, Vice President Rock Island Auction Company
4507 49th Avenue, Moline, IL 61265
Ph: (309) 797-1500 Fax: (309) 797-1655
www.rockislandauction.com
The World Leader for Auctioning Quality Antique & Collectable Firearms
About:
Rock Island Auction Company has been solely owned and operated by Patrick Hogan. This company was conceived on the idea that both the sellers and buyers should be completely informed and provided a professional venue for a true auction. After working with two other auction companies, Mr. Hogan began Rock Island Auction in 1993. Rock Island Auction Company has grown to be one of the top firearms auction houses in the nation. Under Mr. Hogan's guidance the company has experienced growth each and every year; and he is the first to say it is his staff's hard work and determination that have yielded such results. Visit: www.rockislandauction.com