National Shooting Sports Foundation Supports 3-Gun Nation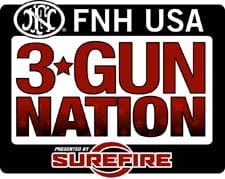 NEWTOWN, Conn –-(Ammoland.com)- 3-Gun Nation has reached a sponsorship agreement recently with the National Shooting Sports Foundation, further solidifying the organization's already strong commitment to the advancement of the shooting sports.
Formed in 1961, the NSSF is the trade association for the shooting, hunting and firearms industry and has more than 5,000 manufacturers, distributors, firearms retailers, shooting ranges, sportsman's organizations and publishers within its membership rolls.
"We are extremely pleased at this new partnership with 3-Gun Nation," said Chris Dolnack, Senior Vice-President and Chief Marketing Officer, NSSF.

"This is one of the ways we help fulfill our mission of promoting, protecting and preserving hunting and the shooting sports. We know this program will help promote this new popular shooting activity as they use today's most popular firearm—the modern sporting rifle."
The NSSF is also a leader in contemporary education programs as well as initiatives geared toward increasing participation in hunting and shooting.
"NSSF has done an outstanding job of late with their newest education program, 'Modern Sporting Rifle,' which gives a solid perspective on the validity of the modern, semi-automatic rifle platforms, such as the AR-15, and their place within the shooting sports—both competitive shooting and hunting," said Chad Adams, VP, 3-Gun Nation.
The NSSF also administers First Shots, NSSF's acclaimed education and training program that introduces new shooters to the sport; and Task force 20/20, a recruitment program geared toward increasing hunting and competitive shooting participation 20-percent by 2013.
"3-Gun Nation is more than a TV show—it's a movement," Adams said. "In that regard, we fully plan on partnering with NSSF on programs such as First Shots and Task Force 20/20 in any and every way possible. We're going to cover those great programs, educate the shooting public, and do everything we can to help NSSF grow the shooting sports."
Multi-gun, or 3-gun, is a unique sport within the discipline known as practical shooting. Considered the fastest growing segment within the shooting sports, 3-gun challenges competitors with rifle, pistol and shotgun, maneuvering through unique stages of fire as fast as their skill will allow.
The next stop on the 3-Gun Nation Tour is during the Fort Benning 3-Gun Challenge, Dec. 3-5, at Fort Benning, Ga., home to the U.S. Army Marksmanship Unit. Following the FB3G-3GN Shoot-Off, a check for $5,000, presented on behalf of the NSSF, will go to the winner.
The National 3-Gun Association, through media properties "3-Gun Nation Television" and 3GunNation.com, was formed with one mission: to promote practical shooting by shining a light on amateur and professional shooters alike, as well as the guns, gear and lifestyle that define the high-octane sport of 3-gun competition. Bringing never-before-seen cash payouts to the table, 3-Gun Nation is quite simply changing the game.
The entire list of events and dates for the 2011 3-Gun Nation Tour will be released soon. For 2011, 3-Gun Nation is moving to Saturday mornings at 7:30 AM EST, in addition to the current airing on Thursdays at 3 PM EST. To see the 2010 3-Gun Nation Championship, where one winner will take home $25,000 from Leupold Tactical Optics, tune in to Versus Monday, Nov. 29 at 7:30 AM or Thursday, Dec. 2 at 3 PM EST. For more information, visit www.3GunNation.com.