When a Stick's Not Just a Stick
by Outdoorsman J. Wayne Fears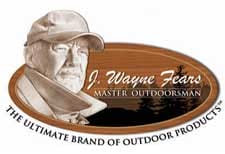 Pottstown PA –-(Ammoland.com)- One third of the people in the U.S. need a third leg, well over 73.3-million people, according to a survey done by the National Sporting Goods Association. How do you know if you need a third leg?
If you hike, camp, birdwatch, climb hills or mountains or pick blackberries, you need a third leg, like the Pro Tool Walking Stick.
Most people think that a walking stick is primarily used to help push yourself up steep inclines. But where the third leg is most important is when you're traveling down hill or walking around a hill.
The walking stick acts like the third leg of a tripod, making you much-more stable than when you only have two points of contact (your two feet) with the ground.
When you're climbing uphill, the walking stick gives you a way to push as well as pull, like having a third leg that helps you take some of the strain off your legs. You also can use a walking stick to move snakes and other undesirable critters out of your path, and it's very efficient in pulling blackberry vines down to where you can reach the berries and pick them.
In many sections of the country now, the leaves are changing colors, the weather's cooling-down, and many families are camping. Some of the favored campgrounds across the nation are in mountainous terrain, because camping high enables everyone to see all the beautiful leaves down below. The cooler weather makes hiking, viewing nature and photographing wildlife activities enjoyable for many families. You'll participate in these sports activities much more, if you've got a walking stick.
Because America is becoming fatter, and cardio-vascular disease is one of the main concerns of national health organizations, most cardiologists agree that exercise, particularly walking, is one of the best defenses against heart trouble and to help prevent heart attacks. However, before you start participating in a vigorous exercise program, you need to have a medical check-up and make sure you're in shape to begin an exercise program. One of the easiest exercises of all to do and to participate in is walking. If you're on uneven terrain, if you want to make your walking more comfortable, or if you're getting older and aren't quite as nimble as you once have been, a Pro Tool Walking Stick can give you that stability you need to continue to walk. Do you have members of your family who have been talking about exercising, getting outside and walking, but just haven't gotten around to it yet? One of the best sources of encouragement that you can give to let that person know how much you care about him or her and his future is to give a Pro Tool Walking Stick for Christmas.
To learn more about the many uses of a walking stick and how you can purchase the 47-inch Pro Tool Walking Stick that's made in the USA from hardwood ash with a unique, ergonomic surface design feature along the entire length of the stick with just the right taper from top to bottom, go to www.protoolindustries.net/categories/tools-by-brand.
This walking stick also has a genuine, solid-brass boot to protect the foot of the stick, provide traction and prevent slippage and wear. For a Christmas gift that will convey your love and concern for a friend or family member, who may need to lose some weight, get in better shape, get out of the house and out from in front of the television, then present your loved one with a Pro Tool Walking Stick.
To Learn more about go to www.jwaynefearsbrand.com,