TEAM ITI TAKES HOME MULTIPLE DIVISION TITLES AT 2010 IDPA GEORGIA STATE CHAMPIONSHIP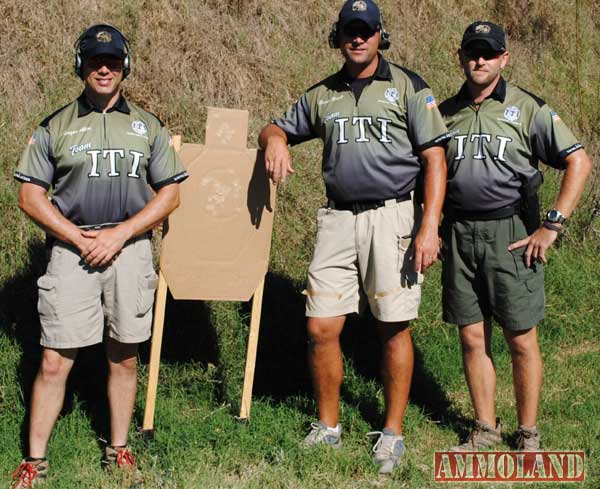 SHACKLESFORD, VA –-(Ammoland.com)- Team International Training, Inc. (ITI) couldn't have asked for a better end to the 2010 season with teammates Morgan Allen, Gary Byerly and Brandon Wright taking home several titles at the 2010 IDPA Georgia State Championship, held in Conyers, GA on October 30th, 2010.
Wright won the SSP Division (Overall Champion), Allen won the ESP Division (2nd overall) and Byerly came in 2nd in the CDP Division.
This year's match was a one day event, consisting of a 13 stage course of fire. Stages included 17 pneumatic and 2 electronic movers, a shoot house and a side match on the plate rack. The round count was approximately 200 rounds.
Allen came in on top, taking first place in the Enhanced Service Pistol (ESP) Division (2nd overall) with a score of 232.79 (67). This is Allen's 3rd straight year holding the ESP Division title for the IDPA Georgia State Championship and his 25th IDPA division title. His win also marks his eighth IDPA state championship division title for the 2010 season (GA, NM, MI, TX, AR, AL, NC, SC).
"Challenges like the ones this match provided will allow you to understand whether or not your fundamentals are in order," commented Allen. "Preparation, be it through training on your own or with your teammates as I regularly do, can make all the difference. There's little more that a good competitor loves more than testing themselves; so shooting with Gary, Brandon, and extended ITI family this past weekend made a big difference and drove up the fun factor!"
Byerly secured 2nd place in the CDP Division with a score of 263.40 (102).
"The GA State IDPA Championship has a reputation for being challenging and this year it more than lived up to that. The match had moving targets on almost every stage with several complicated sequences. It was an accuracy intensive competition with several unique scenarios" commented Byerly. "My teammates and I were able to identify key points on every stage allowing us to shoot to our maximum potential. Congratulations to my teammates who are both State Champions!"
Last but not least, Wright clinched a first place finish in the Stock Service Pistol (SSP) Division (Overall Champion) with a score of 199.05 (57).
"This is the second time I have shot the GA State IDPA Championship and it was not to disappoint. Match Director Capel English did a great job with his stages. The match had 13 challenging stages, over 200 rounds fired and no stage was less than 5 targets," commented Wright. "Capel incorporates lots of pneumatic targets that pop up, pop out and move. This threw our timing off and caused us to really examine each stage. That's why it was important to have great teammates with me like Morgan and Gary. I also want to thank ITI for giving myself and my teammates the ability to expand and improve our shooting. We're all looking forward to competing in 2011."
To view the complete list of results, visit the GADPA website.
Follow Team ITI on Facebook: www.facebook.com/TeamITI
Watch videos of ITI on YouTube: www.youtube.com/wwwitiwsicom
About Morgan Allen
Morgan Allen has only been shooting pistols since 2005, but has already amassed over 20 IDPA State and Regional Division Championship titles under his belt since 2007. Having moved up the ladder from an IDPA Novice to Master in only 14 months, Allen has also won three top five Division finishes at the Smith & Wesson Indoor Nationals. Allen is an NRA Certified Pistol Instructor, as well as an IDPA Safety Officer and PPC Master.
About Gary Byerly
Gary Byerly has been competing in IDPA matches for the past eight years and USPSA and 3-Gun matches for five years. He is an IDPA ESP and SSP Master, as well as a six-time IDPA State Champion. Byerly is a Master in Production and holds an "A" Classification in Open and Limited in USPSA. Byerly is also a three time Area class winner.
About Brandon Wright
Brandon Wright served four years as a Law Enforcement Officer and four years as a State Trooper in the Virginia State Police. In addition, Wright was a member of the local police department S.W.A.T. Team. Wright has over eight years experience as a Firearms Instructor, which he puts into practice at ITI as their Senior Firearms Instructor. He is an IDPA Master Class shooter and is currently awaiting classification in USPSA Production and Limited Divisions.
About International Training, Inc.
International Training Incorporated (ITI) is a subsidiary of Wackenhut Services Inc. Founded in 1989; ITI is committed to providing benchmark security training programs emphasizing professionalism, quality, customer service, and a fair price. ITI conducts both mobile and fixed site training in security assistance and security service programs for the U.S. Government, U.S. military, corporate America, and now private citizens. For more information on ITI or any of their courses, log on to www.itiwsi.com.