Top Shots Engmann Is Production Division Top Gun at USPSA Area 2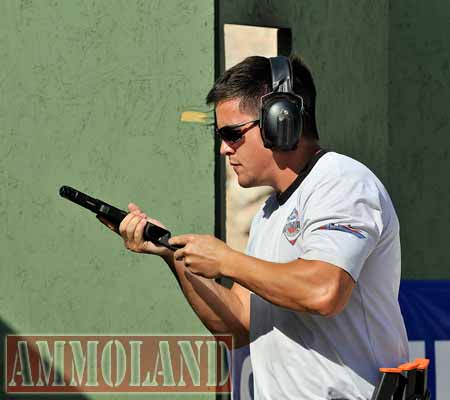 SEDRO-WOOLLEY, WA -(Ammoland.com)- Brad Engmann may not have won the History Channel's Top Shot reality shooting show but the San Francisco, Calif. resident proved he is indeed a top gun with his Production division win this past weekend at the U.S. Practical Shooting Association's (USPSA) Area 2 Regional Handgun Championship.
Engmann, who is ranked a Grand Master, the highest skill level in the sport of practical shooting, edged out fellow Grand Master and Team CZ shooter Angus Hobdell of Tempe, Ariz. by just 6.1011 points with his final score of 1079.4115. Hobdell finsihed second with 1073.3104.
Third place in the match went to Cody McKenna of Mesa, Ariz. with 1001.6533 points. Chad Reilly of Phoenix, Ariz. claimed fourth with 1000.4468 while Jason Maples of Gilbert, Ariz. rounded out the top five shooting a score of 993.0169.
The USPSA Area 2 Championship was held at the Rio Salado Sportsman's Club in Mesa, Ariz. and drew more than 370 top competition shooters. Area 2 is the Southwest region within USPSA, one of the eight shooting regions in the country, and is made up of Arizona, California, Colorado, Hawaii and New Mexico but shooters from around the country attended.
The run-and-gun sport of practical shooting was formally established in 1976 but traces its roots back to the 1950's and the quick draw "leather slap" competitions that grew out of America's love affair with the TV westerns of that era.
Today the sport represents the upper echelon of the shooting sports with many of its top shooters actively training law enforcement and military units on shooting techniques and equipment developed in competition.
For more information visit www.uspsa.org, follow @USPSA_Shooting on Twitter or visit the Practical Shooting blog at www.PracticalShooting.posterous.com.