U.S. Sportsmen's Alliance On Target Live News Minute 11/22/2010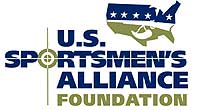 Columbus, OH –-(Ammoland.com)- The U.S. Sportsmen's Alliance is dedicated to keeping America's sportsmen and sportswomen informed of issues affecting our outdoor heritage. We recently put together a video highlighting some of the issues we are currently face defending our outdoor rights.
This week, we welcome you to our newest video production entitled On Target Live. Much like its weekly electronic newsletter counterpart, On Target, we discuss several current issues surrounding our outdoor heritage. We certainly hope you enjoy the new format. We expect to make this a regular feature of our weekly On Target electronic newsletter.
Check it out let me know what you like and don't like about it by e-mailing me at [email protected]
Thanks again for being on the front lines in the fight for our heritage!
Sincerely,
Bud Pidgeon
President and CEO
(614) 888-486868
[email protected]
www.ussportsmen.org
About:
The U.S. Sportsmen's Alliance is a national association of sportsmen and sportsmen's organizations that protects the rights of hunters, anglers and trappers in the courts, legislatures, at the ballot, in Congress and through public education programs. Visit www.ussportsmen.org.