Command Arms Accessories Open for Business with Help from EMA Tactical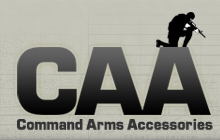 Tullytown, PA –-(Ammoland.com)- We are very pleased to announce that the assets and business of Command Arms Accessories LLC (CAA) have been purchased by EMA Tactical.
We apologize for any inconvenience the liquidation process has caused our customers and we want to assure you, that now more than ever, we have a powerful company manufacturing the leading products in the weapon accessories and parts industry.
We are here to support our customers in every way possible. Our goal is to make sure that you, our customer, receives the best products along with the best service you have come to expect.
All CAA products are now available through EMA Tactical and Command Arms Accessories LLC.
About:
EMA TACTICAL is the world leader in the development and manufacture of superior advanced arms accessories. Our products are specifically designed to meet the rigorous demands of tactical solutions required by worldwide armed forces, Law enforcement units & weapon professionals. Visit: www.ematactical.com