Country Music & Hunting Stars at the Millennium Booth During the 2011 ATA Show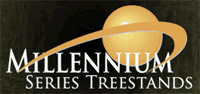 Pearl, Mississippi –-(Ammoland.com)- Stop by booth Millennium Treestand's booth #2235 from 11-11:30 a.m. on Jan. 6 to meet country music star Craig Morgan.
The singer of hits such as Redneck Yacht Club and International Harvester, is a passionate hunter and a fan of Millennium's products.
Jon and Gina Brunson, hosts of Addicted to the Outdoors TV show on the Outdoors Channel, will be at the Millennium booth at 1 p.m. on Jan 6.
You'll also get to meet Mike and Bonnie McFerrin and the rest of the cast of the Outdoor Channels The Legends of the Fall TV show if you stop by the booth sometime from 9 a.m. until 1 p.m. Jan. 7.
Don't miss out on your chance to meet these stars and diehard hunters. They're looking forward to meeting you.
Millennium stands are engineered to be the most comfortable and quietest stands on the market allowing you to sit patiently from sun up to sundown without pain or discomfort. For this reason, when you hunt from a Millennium stand, your odds of success increase dramatically.
For more info, check out www.millenniumstands.com
About:
Hunting Solutions was founded in 1999 our mission is to provide hunters with safe, high quality products at a fair price. Hunting Solutions is dedicated to quality design and workmanship that can be seen in all our products. This is how we are able to offer an unlimited lifetime warranty.